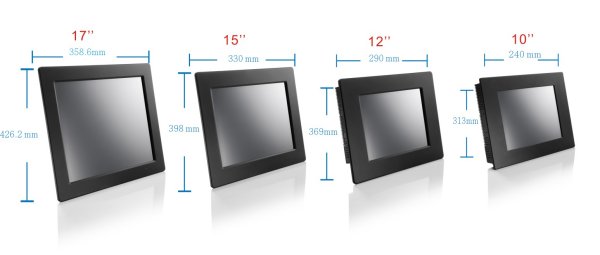 Overview
The WLP-7920 is a fanless Touch Screen Panel PC solution for industrial and commercial applications. Using the Intel Atom Dual Core 1.8GHz CPU and ICH8M chipset provides a high performance Panel PC. The front bezel offers protection to IP66/NEMA4X so the WLP-7920 can be used in the food, beverage and pharmaceutical industries which require regular cleaning of Panel PCs. The WLP-7920 is available in 10", 12", 15" and 17" display sizes and are all ultraslim (between 4.9 and 6.2cm).

WLP 7920 has up to 4GB DDR3; 1x Gbit LAN, 3xUSB 2.0, COM and 2xSATAII and additional displays can also be connected by VGA or 18/24-bit LVDS and comes with 2GB DDR3 and 160GB HDD as standard.
There is a Mini-PCIe slot which can be used to install a WiFi card.

The HDD SATA connectors are fitted with a clamping fastener which allows reliable operation under harsh conditions. A ground cable connected to the chassis ensures grounding of the internal motherboard.

The WLP-7920 can be used in a wide temperature range:and with the touch screen switched off the Panel PC can work from -30°C to +85°C. The WLP-7920 can be used with Windows XP (XPE or FES) or Windows 7 (WES7 or PRO).
Features
Intel Atom Dual Core D525 1.8GHz CPU
Intel ICH8M chipset
Size: 10", 12", 15" or 17"
Resolution: 800x600 (10"&12") or 1024x768 (15"&17")
Up to 4GB DDR3 (2GB as standard)
1xGLAN, 3xUSB 2.0, Dual LVDS, 2xSATAII
1xMini-PCIe slot (can be used for WiFi module)
2.5" HDD mounting (160GB fitted as standard)
Front Bezel protection to IP66/NEMA4X
Low Power Fanless Solution
WLP-7920-10
10.4" Intel Atom D525 Fanless & Slim Panel PC
Low Power and True Fanless Thermal Solution
IP66/NEMA4X Water/Dust Proof Front Bezel
Built in HDD Anti-vibration Module
WLP-7920-12
12" Intel Atom D525 Fanless & Slim Panel PC
Low Power and True Fanless Thermal Solution
IP66/NEMA4X Water/Dust Proof Front Bezel
Built in HDD Anti-vibration Module
WLP-7920-15
15" Intel Atom D525 Fanless & Slim Panel PC
Low Power and True Fanless Thermal Solution
IP66/NEMA4X Water/Dust Proof Front Bezel
Built in HDD Anti-vibration Module
WLP-7920-17
17" Intel Atom D525 Fanless & Slim Panel PC
Low Power and True Fanless Thermal Solution
IP66/NEMA4X Water/Dust Proof Front Bezel
Built in HDD Anti-vibration Module