iBOX-R1000 / 4X4-R1000 / 4X4-V1000
The iBOX-R1000, a turn-key rugged embedded PC built to be flexible and adaptable to a wide range of industry applications, including AI edge computing, vision applications and industrial IoT solutions.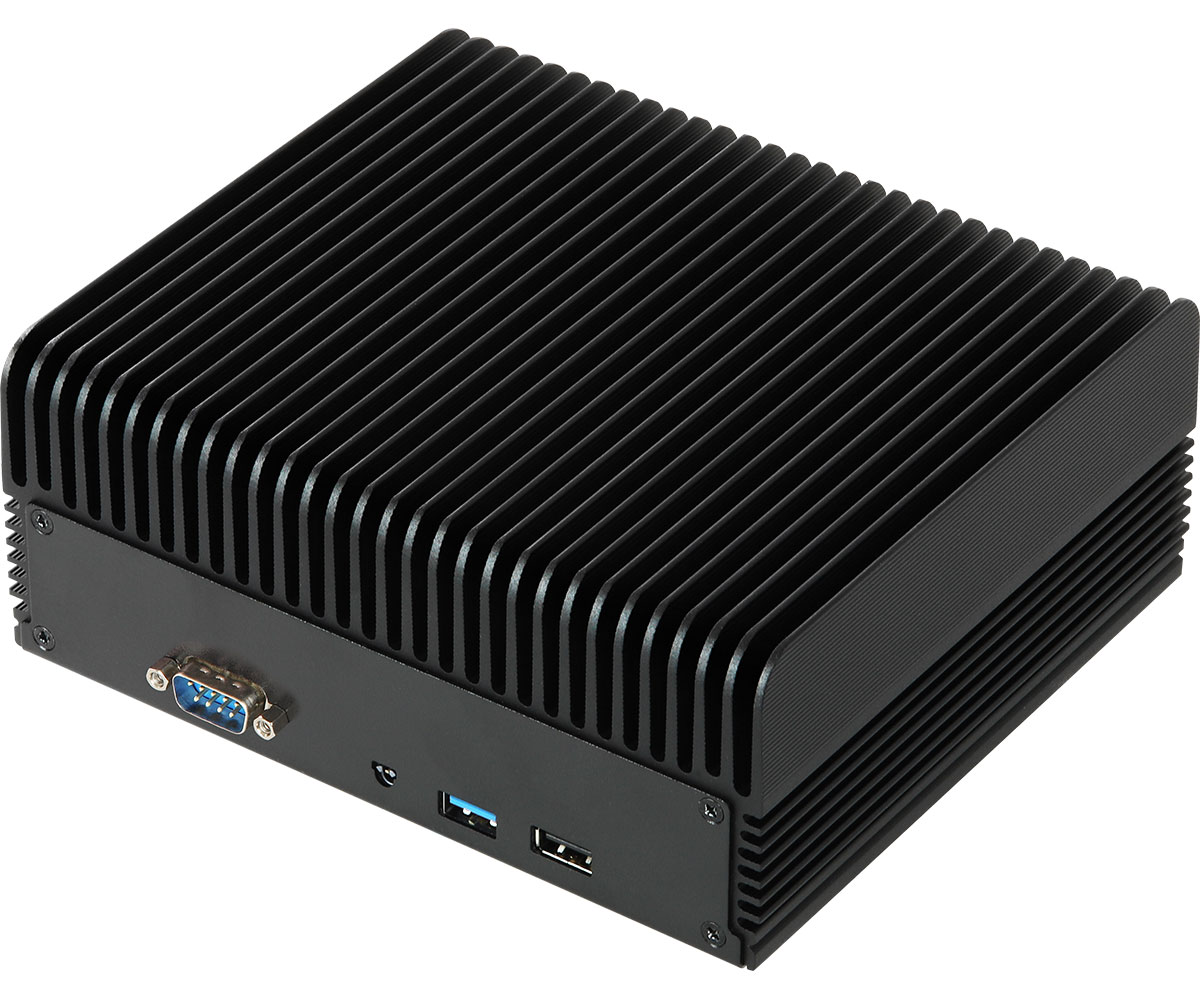 The iBOX-R1000 is the first AMD-powered 4″x4″ form factor solution in the world. It is a cost-effective and high-performance embedded, fanless computer for industrial applications powered by the robust AMD RyzenTM Embedded R1000 SoC. It runs on Microsoft Windows 10 and Linux kernel 4.18 and above. The Ryzen Embedded R1000 SoC supports dual channel DDR4 2400MHz and also ECC memory SO-DIMM up to 32GB. There are two ports for DisplayPort 1.4 and one for HDMI 2.0 output that can display three separate screens at the same time or be configured to one large screen. In addition, 4K video output is supported.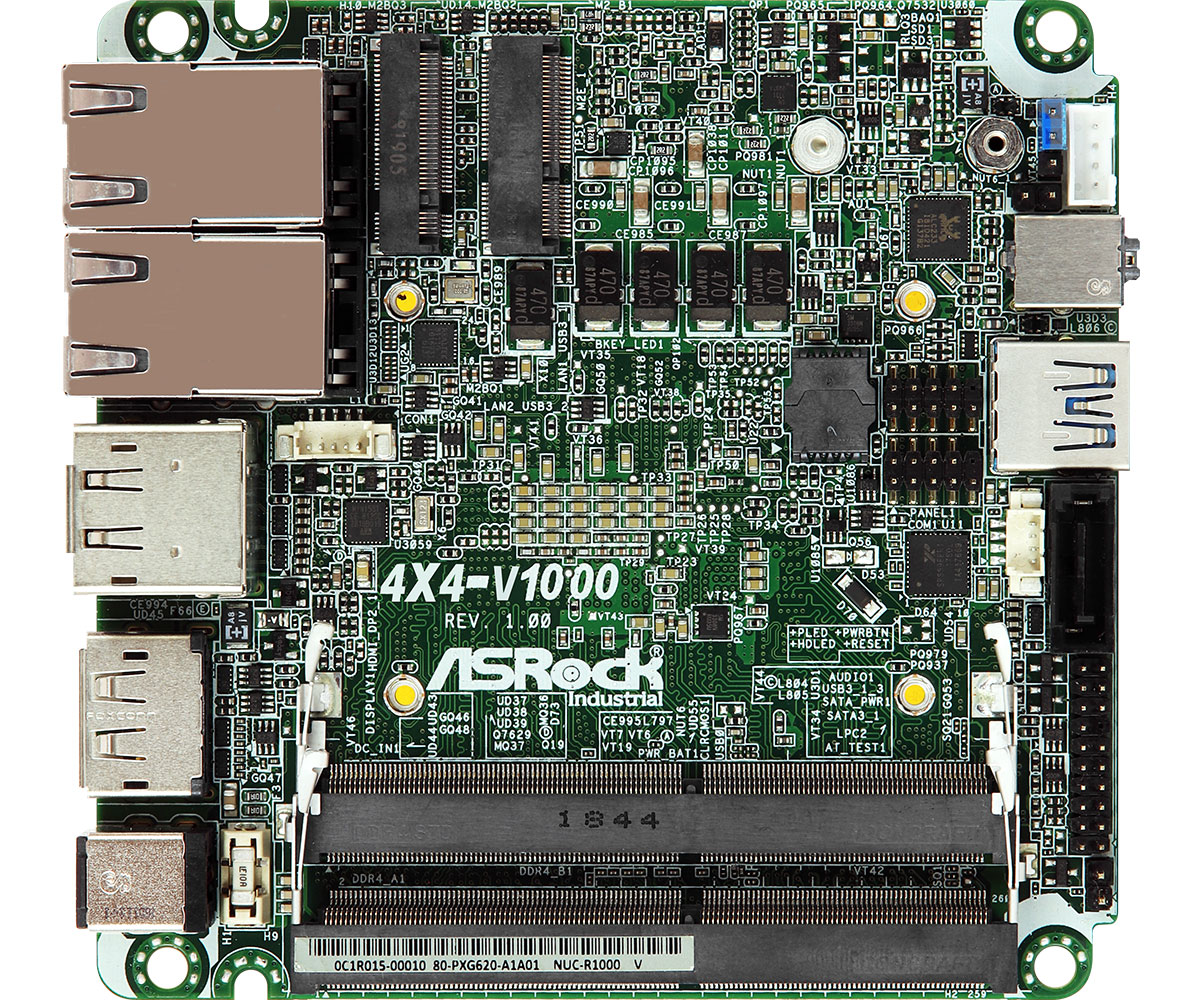 ASRock Industrial's iBOX-R1000 comes in a ruggedized, metal chassis and employs a 25W fanless design for the toughest environments up to 50°C. It has two RJ45 Gigabit Ethernet ports, one USB2.0 and three USB3.1 connectors, one COM port for RS-232/422/485 and a power jack for the 12V adapter (included). LEDs indicate power on/off and HDD activity.
Inside the housing, there is one M.2 (Key M) to support SSD (2242 & 2260), one M.2 (Key E) 2230 for WiFi and Bluetooth, and one 2.5″ HDD/SSD space.
The AMD Ryzen™ Embedded R1000 brings together the powerful performance of the pioneering "Zen" CPU and "Vega" GPU architectures to the R-series family. The Ryzen Embedded R1000 brings multi-threaded performance, for the first time, to the R-series of processors.
With 3x generational performance improvement per watt, and 4x better CPU and graphics performance per dollar than the competition, the R1000 is an ideal fit for embedded applications. Ryzen Embedded R1000 delivers a new class of performance in a seamlessly integrated single-chip solution. R1000 SoCs are platform compatible with the Ryzen Embedded V1000 Series and enable system designers to target efficient designs between 12W to 25W.
AMD Ryzen R1000 Series
Dual Channel DDR4 SO DIMM 2400MHz, up to 32GB
2 x Displayport, 1 x HDMI
3 x USB 3.1, 2 x USB 2.0, 1 x COM
1 x M.2 KEY M, 1 x M.2 KEY E
2 x Realtek LAN
12V DC-In

AMD RYZEN embedded CPU
Supports Dual Channel DDR4 SO DIMM 2400 MHz, up to 32GB
2 x Displayport, 1 x HDMI
3 x USB 3.1, 2 x USB 2.0, 1 x SATA3, 1 x COM
1 x M.2 KEY M, 1 x M.2 KEY E
2 x Realtek LAN
1 x LPC header
12V DC-In

NUC-R1000M = R1606G / NUC-R1000V = R1505G

AMD Ryzen V1605B
Supports Dual Channel DDR4 SO DIMM 2400 MT/s, up to 32GB
2 x Displayport, 1 x HDMI
3 x USB 3.1, 2 x USB 2.0, 1 x SATA3, 1 x COM
1 x M.2 KEY M, 1 x M.2 KEY E
2 x Realtek LAN
1 x LPC header
12V DC-In
Click Here to see out full range of AMD Embedded Solutions. https://www.bvm.co.uk/category/amd-solutions/