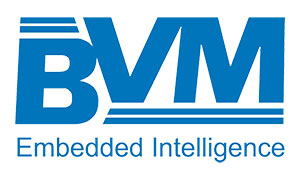 Artificial Intelligence from BVM

Artificial Intelligence (AI) is a method of using computers for perception, logic and learning.
AI uses machine learning so that AI system performance improves over time and with more data analysis. This is achieved using Deep Learning algorithms based on neural networks which connect inputs and outputs in a similar way to the way brain works. Problem solving is learnt by the system itself and not hard coded by computer technologists. Deep Learning is used to Train the AI systems by providing data repeatedly to hone the system's ability. When the AI system is trained it works to achieve the end goal which is to perform analysis or decision making.
Artificial Intelligence is achieved by using systems with a combination of high performance scalable processors such as the Intel® Xeon®; FPGAs (Field Programmable Gate Arrays); Vision Processing Units (VPUs) and Neural Network Processors (NNPs).
For more information click here
AI Ready Solution Accelerates Your AI Initiative

FLEX-BX200-Q370 – AI Modular Box PC
The FLEX-BX200 is an AI hardware ready system ideal for deep learning inference computing to help you get faster, deeper insights into your customers and your business. The FLEX-BX200 supports graphics cards, Intel FPGA acceleration cards, and Intel VPU acceleration cards, and provides additional computational power plus end-to-end solution to run your tasks more efficiently. With the NVIDIA TensorRT, QNAP QuAI, and Intel OpenVINO AI development toolkit, it can help you deploy your solutions faster than ever.

For more information click here or 
contact our sales team on +44 (0)1489 780144.
GRAND-C422-20D – AI Training Server System

AI training system with Intel® Xeon® W family processor and powerful PCIe expansion ability. Support up to 4 GPU card expansion slots (dual-width PCIe x8) and 2 single-width expansion slots (PCIe x4) for max. expansion ability to meet computing needs.

For more information click here.

TANK AIoT – AI Inference System Development Kit

The TANK AIoT Dev. Kit features rich I/O and dual PCIe by 16 slots with by 8 signal for add-on card installation such as PoE (IPCEI-4POE) card or acceleration card (Mustang-F100-A10 & Mustang-V100-RX8) to enhance function and performance for various applications.

For more information click here.