In an age where we strive for greater and greater efficiency and maximum productivity, engineering design is under ever greater scrutiny. When designing an intelligent product, whether a marine navigation system, aircraft test set or complex bench instrument, it's seldom economical to design the full PC at the heart of the system. With the plethora of industrial grade embedded boards available there's every chance the required functionality is available, already proven and at a fraction of the cost of designing from scratch.
But will it fit in the space available? Do the connectors present themselves at a convenient location? Do we really want the end user to be seeing a PC style connector panel?  The latter point has certainly been known to be the source of failure where incompatible devices are plugged into what appear to be industry 'standard' interfaces.
So what are the alternatives?
A full custom designed PCB containing the CPU, memory BIOS and I/O may be a viable proposition for a product that will sell many thousands but for the majority of companies the resources required and the ongoing support requirements make this an unrealistic option. Another option is to use a selection of embedded boards and 'bury' them inside the unit.  In many cases, this works but doesn't lead to a larger solution and inevitably compromises the finished product in terms of size, shape and connector panel layout.
A third approach can give the best of both worlds.
The use of a 'Computer on Module' (COM) takes away much of the complex PC and BIOS design. By the design of a relatively simple carrier board hosting all the I/O and product specific connectors and peripherals, a 'no compromise' solution can be achieved. The benefits of this approach are many; by the company's engineers "sticking to the knitting", i.e. concentrating on those areas that are unique to their company, development and ongoing support can be minimised. The finished product, if designed correctly, can be future proofed minimising susceptibility to component obsolescence whilst allowing the benefits of upgraded CPUs to be incorporated as & when they become available.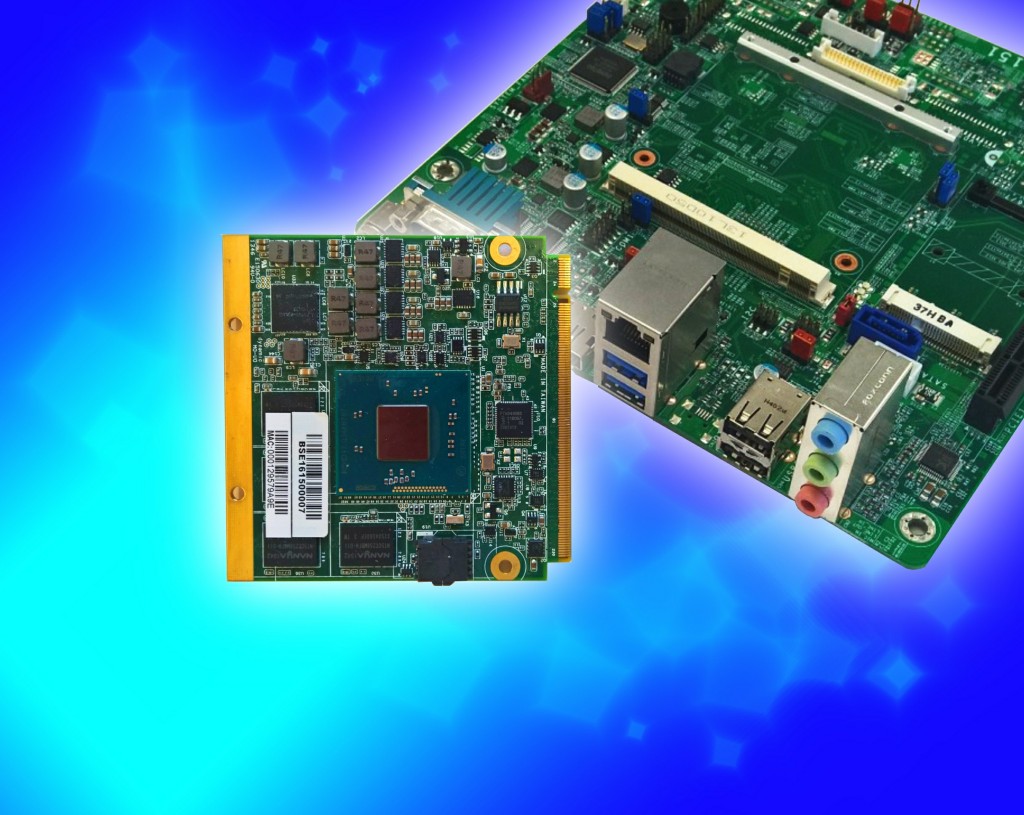 In essence, a COM module combines all the basic elements of a PC on a small   plug-in module.  In this way the COM module manufacturer takes responsibility for designing, sourcing and manufacturing the heart of the PC taking advantage of the benefits of scale, solving the design issues and installing and configuring the BIOS. The black art of high speed PCB tracks, track length and impedance matching issues are all taken care of by the module manufacturer. The 'base board' or 'carrier board' designer starts from a working module and only has to add his or her real world interfaces and specialist peripheral devices. True, this can still be a formidable task but it's typically in this area that the company already has familiarisation. In many cases, this is the essence of their product.
Take, for example, a marine navigation system with a large screen incorporating GPS built into a waterproof enclosure.  Chances are that the company's engineers are already familiar with the requirements of the overall system but probably totally new to designing high speed memory or PCIe buses where impedance matching and PCB track length play an essential part in the performance of the finished unit. There's also the BIOS to consider which must be customised for each particular design.
Using a COM module, which in essence can be treated as a plug-in device, ensures a working starting point for the process. With reasonable care and following simple guidelines, a design can be "live" in a relatively short period of time. Once a debugger is running on the CPU, the process of verifying the rest of the design is so much simpler.
There's an impressive choice of COM modules each with its own advantages, size and performance options.  For evaluation purposes there's a selection of carrier boards to allow performance to be evaluated and as a benchmark for any custom designs that are are created.
BVM have worked with COM modules for some time and have developed in-house expertise to assist our customers create their designs; indeed, we are able to fulfil the design process for them if so required – it's part of our many services.
BVM's engineers have produced boards ranging from small Din railing mounting units to 250mm square boards containing 12 x Mini-PCIe expansion cards . Whatever your project, it's always worth talking to us. Our team can make an added contribution to your engineering resource.