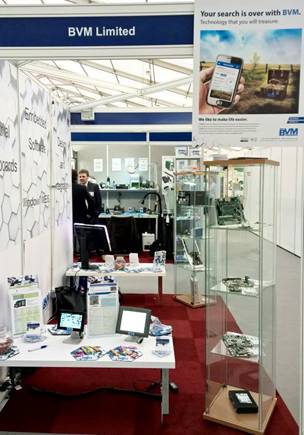 On the morning of Tuesday 10th February, we made our way up the M3 to the Southern Manufacturing and Electronics Exhibition. We went with an open mind, after not exhibiting at an event for some time but remained enthusiastic to meet some new faces and learn more about the manufacturing and electronics industry.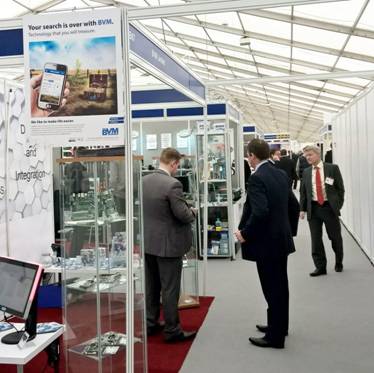 Day one was a quiet day. Most noted was the smells of hog roast and bacon rolls which drifted through the aisles of stands. It was interesting to see what other like minded companies had on offer and how they presented their stands. We all worked hard to man the stand, speaking to passersby, handing out merchandise and providing friendly advice.
It was a crisp morning on the second day but the crowds came and made things a lot busier (and more interesting!)
There was a range of different suppliers show casing an array of products. From injection molding, PCB boards, cable ties, through to test apparatus and providers of mechanical components of all shapes and sizes – an even the odd talking robot that manned a stand, aisle or two. Sounds of heavy, loud CNC machine tools attracted the attention of many visitors and took centre stage.
The third day (created due to the heavy winds in 2014, which canceled the 2nd day of the exhibition  – as the tent roof blew off) provided the opportunity to have some interesting conversations. Most intriguing took place on our stand with a gentleman whose job was to ensure that planes do not collide with anything else in the sky !
Overall, a variety of visitors and exhibitors showed us the diversity of companies that exist within the UK manufacturing industry.
Will we be back next year? Time will tell…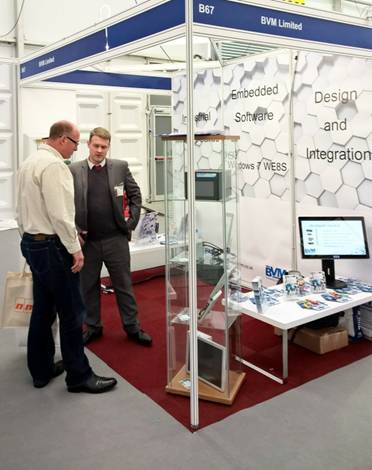 Southern Manufacturing and Electronics is the most comprehensive annual industrial exhibition in the UK and a major pan-European showcase for new technology in machinery, production equipment, electronic production and assembly, tooling and components as well as subcontract services across an impressively wide range of industry.
One Show….A Thousand Solutions
A must-attend event for anyone involved in design, engineering production and procurement – the place to see all the latest in production hardware, components, consumables and technology serving a wide range of industries including Aerospace/Defence, Automotive, Electronics Assembly/ Production, Industrial Machinery, Packaging/Handling/Logistics, Energy, Marine, Medical/PharmaBio, Mechanical Engineering and Metal Processing.
Where Is Southern Manufacturing And Electronics Held?
The event is located at Farnborough International Exhibition and Conference Centre, a brand new 20,000m2 state-of-the art venue, offering superb modern facilities, easy access and free onsite parking.
Our supporting team have all worked in an embedded environment for a number of years, consequently providing knowledge, experience and good advice around all BVM's products & services when and where you need it.  We don't profess to know everything you need at the time  – but we'll always help in the first instance and get back to you when a little more information is required.
You can either
Call us directly on +(0) 1489 780 144 and talk to one of the team
E-mail us at sales@bvmltd.co.uk
Or use our fast chat / fast answer service on our website
Was this article useful? Contact us so we can help you find a solution.