If your application is deployed within gaming, surveillance, digital signage, industrial automation, medical – or communications, then the new ASRock '4 x 4' Box –R1000 and V1000 system PC solutions are something you should be looking at.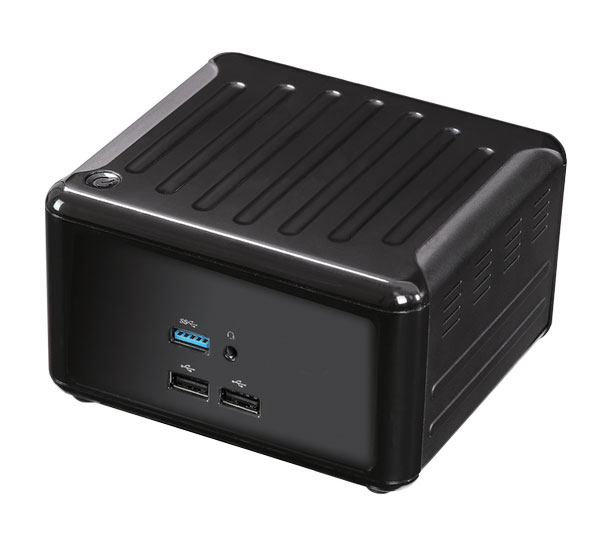 Utilising the AMD Embedded R-Series processor range, the 4x4Box-R1000 provides for dual LAN support, simultaneous support of 3 x displays, 4K resolution/60 frames per second  and fanless designs running as  low 12 watts TDP.
And with the 4x4Box-V1000, the performance keeps on getting better. At it's heart – the 64-bit, quad core V1605B processor with a capable boost frequency of up to 3.2 GHz taken directly from the AMD Embedded V-Series.
But just don't take our word for it; compare these SoC based solutions on performance for value ($ /£) and performance per Watt and you'll quickly realise the 4×4 Box-R1000 and 4×4 Box-V1000 solutions far outperform anything considered as their direct competition.
The 4x4Box-R1000 and V1000 solutions come with durable, light weight plastic surrounds, but if you need something a little more robust – be sure to check out  both the iBOX-R1000V and R1000M that come with come black annodised metal housings as standard.
AMD Ryzen Embedded R1000 CPU
AMD Radeon Vega Graphics
1 x HDMI, 2 x Displayport
3 x USB 3.1, 2 x USB 2.0

AMD Ryzen Embedded V1000 CPU
AMD Radeon Vega Graphics
1 x HDMI, 2 x Displayport
3 x USB 3.1, 2 x USB 2.0

High Performance Fanless AMD Ryzen PC
Embedded V1000/R1000 Processors
1 x HDMI, 2 x Displayport
3 x USB 3.1, 2 x USB 2.0, 1 x COM
The AMD Ryzen Embedded is a low-power variant of the Ryzen line that primarily targets graphics-driven embedded devices such as Medical Imaging, Industrial Systems, Digital Gaming and Thin Client PCs. These processors have lower TDPs (Thermal Design Power) and offer configurable I/O for system designers.
Need further advice – or want to purchase samples ? 
Our supporting team have all worked in an embedded environment for a number of years, consequently providing knowledge, experience and good advice around all BVM's products & services when and where you need it.  We don't profess to know everything you need at the time  – but we'll always help in the first instance and get back to you when a little more information is required.
You can either
Call us directly on +(0) 1489 780 144 and talk to one of the team
E-mail us at sales@bvmltd.co.uk