Wincomm 19″ iCore Wide Temp Stainless Steel Fanless Panel PC
WTP-9E66-19 – Wincomm – 19″ Stainless Fanless Panel PC – IP66 IP69K – 19″ – 1280×1024 – iCore – i5-6200U – 2.3Ghz – Dual Core – 4Gb – 2133MHZ DDR4 – SATA Mini PCIe M.2
Description
Full IP66/ 67/ 69K Reliable Stainless Steel Panel PCs
The industrial-grade stainless steel panel PC series are built to suit for challenging environments, undergoing rigorous testing to ensure safety and top performance. All of the models in the stainless steel series are sealed to at least IP65 standards, and the Stainless Steel IP69K Panel PC, is sealed to IP69K offering the best solution for environments with hygienic considerations. Featuring at full flat resistive touch, chassis mount with downward I.O to save installation space, Wincomm stainless steel panel PCs and display go beyond that of the standard industrial panel computes with elegant, rugged construction, powerful performance, and flexible mounting options making it ideal for machine controller, command centers, enabling rapid communication, and fast, efficient computing. The IP69K Stainless Steel Panel PC works well in food, beverage, pharmaceutical industry, including chemical manufacturing and other industrial applications.
Features
19″ Intel Skylake Fanless Stainless Panel PC
IP66 full sealed with Anti-corrosion enclosure
19″ LCD with full flat Resistive touch
IP67 M12 metal connectors
Special inspection of 100% waterproof guarantee
CE, FCC, VCCI Class B certified
Support Intel Vpro technology by CPU
Optional Mini-PCIe WLAN with external antenna
Customized PCAP touch with IP69K true tested
Customized IP67 solution
Screen touch lock function
Specifications
| | |
| --- | --- |
| CPU | FCBGA1356 6th generation IntelR Core i7/i5/i3 processor (15W max.) or Celeron J1900 |
| Chipset | SoC |
| Memory | Two 2133 MHz DDR4 SODIMM socket support dual Channel, non-ECC, up to 32GB |
| Touch-screen | 19" / 1280 x 1024 (SXGA)/ 350 nits / Full Flat 5 Wire resistive or P-cap touch (Customization) |
| External I/O | 1 x M12 8pin for USB 1/2 |
| | 1 x M12 8pin for USB 3/4 |
| | 1 x M12 8pin for COM 1/RS-232 |
| | 1 x M12 8pin for COM 2/RS-232 |
| | 1 x M12 8pin for LAN 1 |
| | 1 x M12 5pin DC power connector |
| Storage HDD | 2.5" SATA HDD drive bay x 1 + anti-vibration kit, 500GB |
| Expansion | Mini-PCIe x 2 |
| Regulations | FCC, CE (EMC), VCCI Class B |
| Size | 458 x 386 x 64 mm (W x H x D, not include I/O connectors) |
| Weight | 11.5 Kg (net) |
| Ordering Information | Core i5-6200U / 4G RAM / 500G HDD / Full flat R-Touch |
| | Core i7-6500U / 4G RAM / 500G HDD / Full flat R-Touch |
Options
Wireless or Wireless + BT kit (2 Dipole ant)
M12 to 1x COM cable (cable length is 2 meters)
M12 to 1x USB cable (1 USB Port) (cable length is 2 meters)
M12 to 2x USB cable (2 USB Port) (cable length is 2 meters)
M12 to 1x LAN cable (cable length is 2 meters)
SSD
Wall mount / table mount bracket
Wireless or Wireless and BT kit (easy clean and Robust Antenna)
Full flat PCT touch screen IP69K
IP67
2 External LAN (USB x2, LAN x2, COM x1)
SUS316 enclosure
Customisation
1000 nit high brightness LCD
Sunlight readable optical bonding
LCD Auto dimming
LCD Super dimming (Low brightness)
USB3.0
Second HD
Intel Core i7-6500U
5W/2W speaker
Barcode reader
COM+power 5V or 12V
TPM
Drawing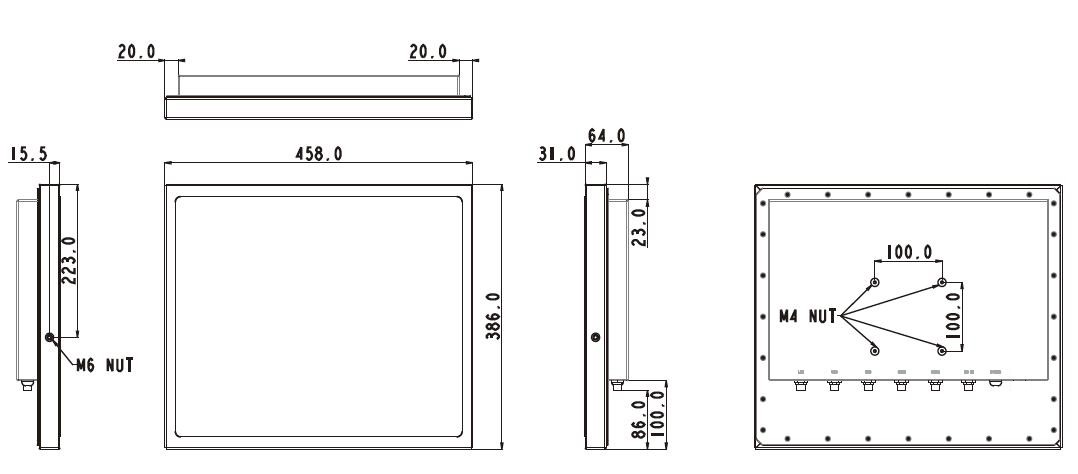 If you cant find an off the shelf product that meets your specific requirements speak with our in house design team who can design a new product from start to finish.
Design | Develop | Test | Manufacture
Here's a selection of our design, manufacturing
& associated services: –
For customers designing a brand-new product from scratch or working with an existing prototype.
FREE Pre-design / Pre-sales advise
Prototyping – Custom PC Design, Custom Panel PC, Custom Racks or Custom Peli Case PCs
Prototyping pre checks (chargeable one-time fee for existing prototype)

Hardware compatibility
Thermal testing
Software compatibility

Custom Back Panels and Faceplates
Custom Metal Work (internal brackets, mounting brackets)
Software – Custom OS Image
Take an existing system and we can:
Custom specification (CPU, Ram, I/O, Storage)
Chassis customisation and branding
Custom BIOS
Software – Custom OS Image
Custom Packaging and branding
Integrating newly designed or existing hardware into a larger system
Build to order Racks and Towers, Peli Case PCs and Mini-ITX PCs
Porting, Integration & Deployment
Windows image capture from customers HDD
Linux image capture from customers HDD
Windows / Linux Deployment from customers image
Custom Windows images, create and deploy
Update management
Custom Linux and Android images?
Custom BIOS
Manufacturer : Wincomm
Screen
Screen Size : 19"
Screen Resolution : 1280x1024
Screen Brightness :
CPU
Powered By : Intel
CPU Family : iCore
CPU Generation :
CPU Model : i5-6200U
CPU Speed : 2.3Ghz
CPU Cores : Dual Core
Memory
Memory Installed : 4Gb
Memory Slots : 2
Memory Type : 2133Mhz DDR4
I/O and Expansion
Expansion Slots : M.2, Mini PCIe, SATA
LAN Ports : 1
Serial Ports : 2
USB 2 Ports :
USB 3 Ports : 4
USB 3.1 Ports : 4
Video Output :
Multi Display :
Wireless Connectivity :
Operating System
Certifications
Industry
Industry : Harsh Environments, Industrial Automation and Control, Transport - Road, Transport and Smart City
Features
24/7 Use :
4G-GPS :
Artificial Intelligence Use :
ATEX :
Industrial :
In-Vehicle :
IoT :
IP Rating : IP66, IP69K
Low Powered :
Mini-ITX :
Multi Displays :
NUC :
Other Features :
PoE :
Rugged :
Ryzen :
System Type : Panel PC
Whiskey Lake :
Wide Temp : Yes
Categories : All Panel PCs, Stainless Steel IP66/IP69K Panel PCs