Description
Small and Lightweight, but Powerful!
Based on 6th Gen Intel Core i7/i5/i3 Processor
As a flawless combination of impressive stylish design and excellent computing capability,the EC70A/EC70B-SU Series brings a whole new concept to the IPC market. Based on the high-end 6th Gen Intel Core i7/i5/i3 processors, it delivers outstanding processing capability in a fanless and compact enclosure. And it is designed for space-limited and compute- intensive solutions like smart factory, digital healthcare, and surveillance.
Features
6th Generation Intel Core Fanless Embedded System
4GB/8GB DDR4 memory onboard
1x 2.5″ SATA 3.0 drive bay
Supports 2 Mini PCIe for wireless application
Rich I/O ports: 2 Intel GbE, 4 COM, 4 USB 3.0
15-Year CPU Life Cycle Support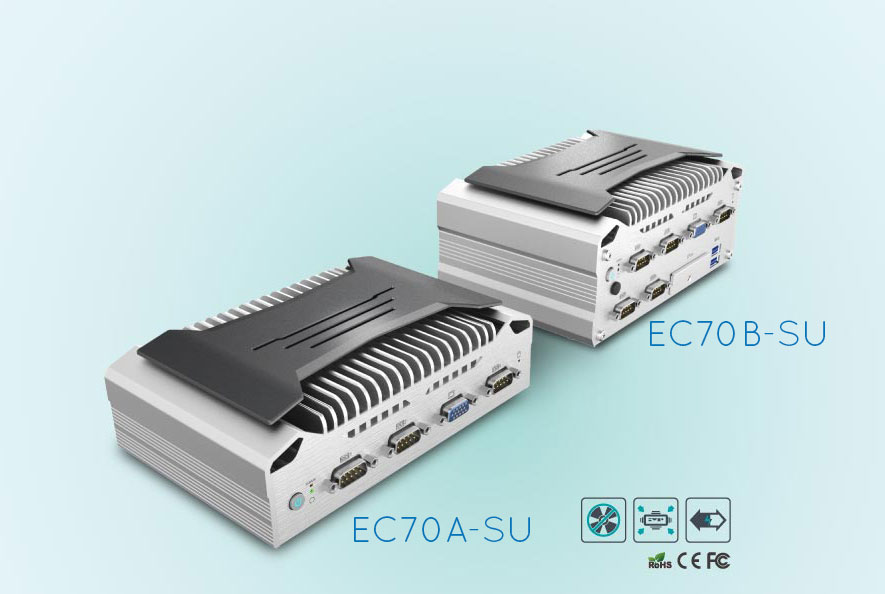 Industrial I/O Interfaces
With rich I/O interfaces covering 2 PoE GLAN and 6 high-speed USB 3.0 to connect to IP cameras, 8-bit Digital I/O connector, and 6 COM ports for legacy devices, the EC70B-SU enables a variety of industrial control applications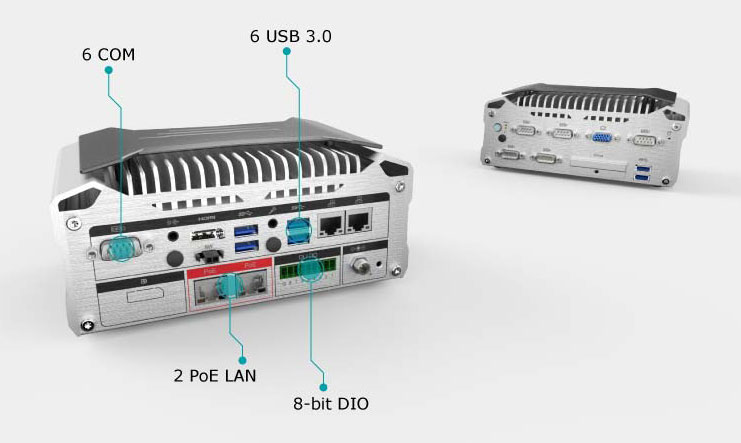 Wide Operating Temperature Support
With ruggedized construction, EC70A/EC70B-SU can survives a wide -20°C to 60°C operating temperature range to satisfy the demands of industries in extreme and harsh environments.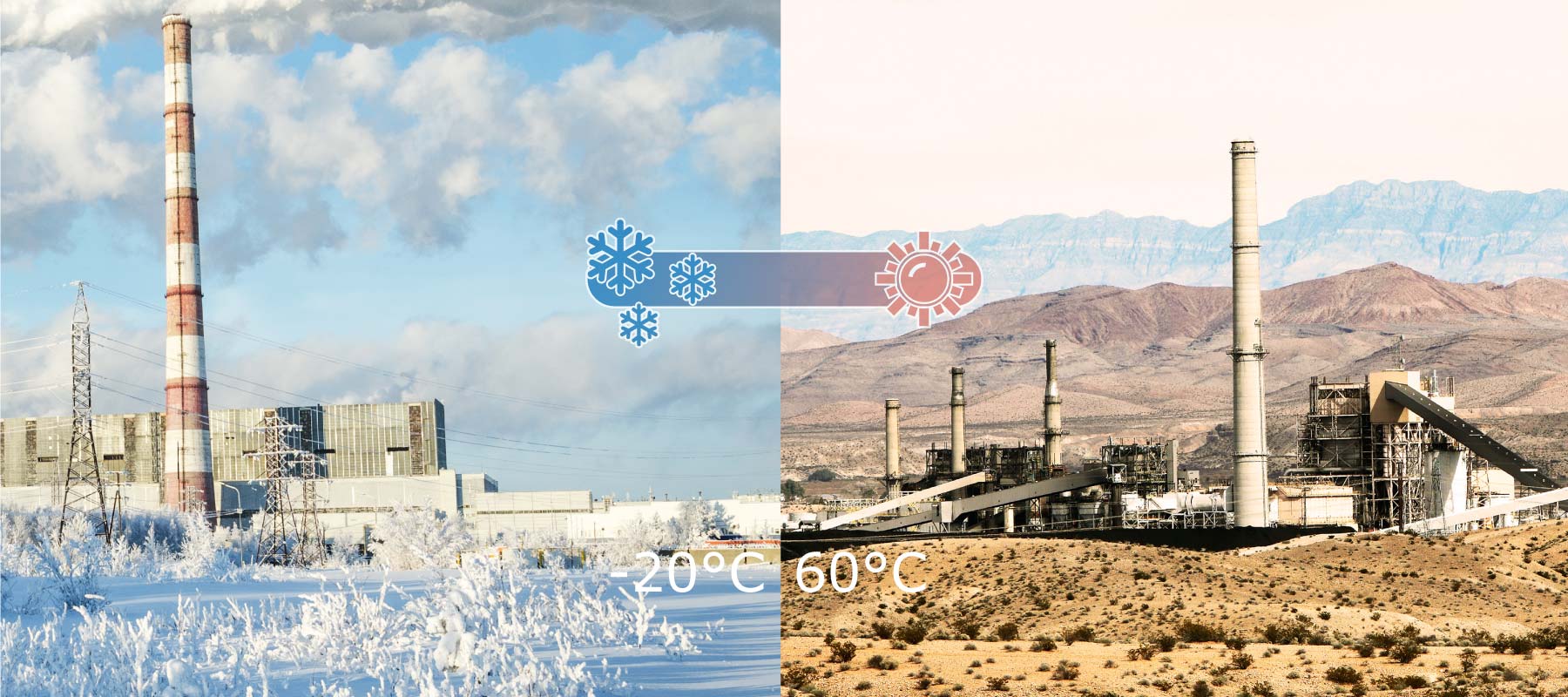 Covers a Wide Industrial Applications
Built with industrial-grade components inside and out, the 15~36V DC extended power input, and fanless design in a compact size make this scalable and cutting-edge solution suitable for demanding factory automation, transportation, and utilities & energy applications.

Specifications
System
Processor
6th Generation Intel Core Processors, BGA 1356
Intel Core i7-6600U Processor, Dual Core, 4M Cache, 2.6GHz, 15W
Intel Core i5-6300U Processor, Dual Core, 3M Cache, 2.4GHz, 15W
Intel Core i3-6100U Processor, Dual Core, 3M Cache, 2.3GHz, 15W
Memory
4GB/8GB Memory Onboard
Dual Channel DDR4 2133MHz
BIOS
Insyde SPI 128Mbit
Graphics
Controller
Intel HD Graphics GT Series
Features
OpenGL 5.0, DirectX 12, OpenCL 2.1
HW Decode: AVC/H.264, MPEG2, VC1/WMV9, JPEG/MJPEG, HEVC/H265, VP8, VP9
HW Encode: AVC/H.264, MPEG2, JPEG, HEVC/H265, VP8, VP9
Display
1 x VGA
1 x HDMI
VGA: resolution up to 1920×1200 @ 60Hz
HDMI: resolution up to 4096×2160 @ 24Hz or 2560×1600 @ 60Hz
Dual Displays
VGA + HDMI
Storage
External/Internal
1 x 2.5″ SATA 3.0 Drive Bay
Expansion
Interfaces
1 x Full-size Mini PCIe (PCIe+USB)
1 x Half-size Mini PCIe (USB+PCIe or USB+SATA, PCIe/SATA is selected by jumper setting, USB+SATA by default)
Audio
Audio Codec
Realtek ALC888 5.1-channel
Ethernet
Controller
1 x Intel I210AT PCIe (10/100/1000Mbps)
1 x Intel I219LM with iAMT11.0 PCIe (10/100/1000Mbps) (only Core i7/i5 supports iAMT)
LED
Indicators
1 x Power LED
1 x HDD LED
Front I/O
Serial
2 x RS-232/422/485 (DB-9, COM 1~2)
1 x RS-232 (DB-9, COM 4, support 8-bit DIO by jumper setting)
Display
1 x VGA
Buttons
1 x Power Button
1 x Reset Button
Wi-Fi Antenna
1 x Wi-Fi Module Antenna Hole
Rear I/O
Ethernet
2 x GbE (RJ-45)
Serial
1 x RS-232 (DB-9, COM 3)
USB
4 x USB 3.0 (type A)
Display
1 x HDMI
Audio
1 x Line-out
Wi-Fi Antenna
2 x Wi-Fi Module Antenna Hole
Watchdog Timer
Output & Interval
System Reset, Programmable via Software from 1 to 255 Seconds
Power
Type
Wide Range 15~36V
Connector
DC Jack
OS Support
OS Support
Windows 7 (32/64-bit)
Windows 8.1 (64-bit)
Windows 10
WES 7
WE8S
Environment
Operating Temperature
-20 to 60°C (wide-temp SSD or mSATA-mini)
0 to 50°C (general SSD or mSATA-mini)
Storage Temperature
-20 to 85°C
Relative Humidity
5 to 95% RH (non-condensing)
Mechanical
Construction
Aluminum + Metal Aluminum
Mounting
Wall/VESA/DIN Rail Mount
Dimensions (W x H x D)
181.6mm x 57mm x 118.4mm
Weight
1.1 Kg
Standards and Certifications
Shock
Operating:
IEC 60068-2-27 Test Ea: Shock Test
Half-Sine, 3G @ 11ms, 18 Shock ±X, ±Y, ±Z (each axis 3 times)
Vibration
Operating:
IEC 60068-2-64 Test Fh: Vibration Board-Band Random Test
Random, 1Grms @ 5~500 Hz, 30min
Non-Operating:
IEC 60068-2-6 Test Fc: Vibration Sinusoidal Test
Sweep Sine, 3Grms @ 10~500Hz, 30min
Certifications
CE, FCC Class A, RoHS
Ordering Information
| | |
| --- | --- |
| EC70A-SU4041-668 | Fanless, Intel Core i7-6600U, 1 HDMI, 1 VGA, 2 LAN, 4 COM, 4 USB, 8GB DDR4 onboard |
| EC70A-SU4041-664 | Fanless, Intel Core i7-6600U, 1 HDMI, 1 VGA, 2 LAN, 4 COM, 4 USB, 4GB DDR4 onboard |
| EC70A-SU4041-638 | Fanless, Intel Core i5-6300U, 1 HDMI, 1 VGA, 2 LAN, 4 COM, 4 USB, 8GB DDR4 onboard |
| EC70A-SU4041-634 | Fanless, Intel Core i5-6300U, 1 HDMI, 1 VGA, 2 LAN, 4 COM, 4 USB, 4GB DDR4 onboard |
| EC70A-SU4041-618 | Fanless, Intel Core i3-6100U, 1 HDMI, 1 VGA, 2 LAN, 4 COM, 4 USB, 8GB DDR4 onboard |
| EC70A-SU4041-614 | Fanless, Intel Core i3-6100U, 1 HDMI, 1 VGA, 2 LAN, 4 COM, 4 USB, 4GB DDR4 onboard |