IEI Mustang-F100-A10 – FPGA Accelerator Card
• IEI – Mustang-F100-A10 – FPGA Accelerator Card – Arria – GX1150 – 8Gb
• PCIe FPGA Highest Performance Accelerator Card with Arria 10 1150GX support DDR4 2400Hz 8GB, PCIe Gen3 x8 interface
Description
Mustang-F100-A10
Accelerate To The Future
Intel Vision Accelerator Design with Intel Arria 10 FPGA.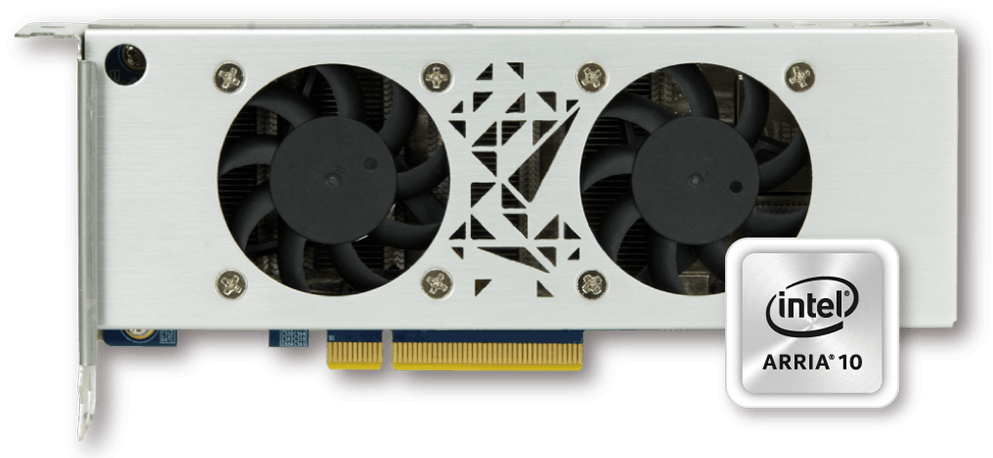 A Perfect Choice for AI Deep Learning Inference Workloads

Powered by Open Visual Inference & Neural Network Optimization (OpenVINO) toolkit
Half-Height, Half-Length, Double-Slot.
Power-efficiency, low-latency.
Supported OpenVINO toolkit, AI edge computing ready device.
FPGAs can be optimized for different deep learning tasks.
Intel FPGAs supports multiple float-points and inference workloads.
OpenVINO toolkit
OpenVINO toolkit is based on convolutional neural networks (CNN), the toolkit extends workloads across Intel hardware and maximizes performance.
It can optimize pre-trained deep learning model such as Caffe, MXNET, Tensorflow into IR binary file then execute the inference engine across Intel-hardware heterogeneously such as CPU, GPU, Intel Movidius Neural Compute Stick, and FPGA.

Applications
| | |
| --- | --- |
| | |
| Machine Vision | Smart Retail |
| | |
| Surveillance | Medical Diagnostics |
Features
Operating Systems

Ubuntu 16.04.3 LTS 64bit, CentOS 7.4 64bit (Support Windows 10 in the end of 2018 & more OS are coming soon)

OpenVINO toolkit
Intel Deep Learning Deployment Toolkit

Model Optimizer
Inference Engine

Optimized computer vision libraries
Intel Media SDK
*OpenCL graphics drivers and runtimes.
Current Supported Topologies: AlexNet, GoogleNet, Tiny Yolo, LeNet, SqueezeNet, VGG16, ResNet (more variants are coming soon)
Intel FPGA Deep Learning Acceleration Suite
High flexibility, Mustang-F100-A10 develop on OpenVINO toolkit structure which allows trained data such as Caffe, TensorFlow, and MXNet to execute on it after convert to optimized IR.
*OpenCL is the trademark of Apple Inc. used by permission by Khronos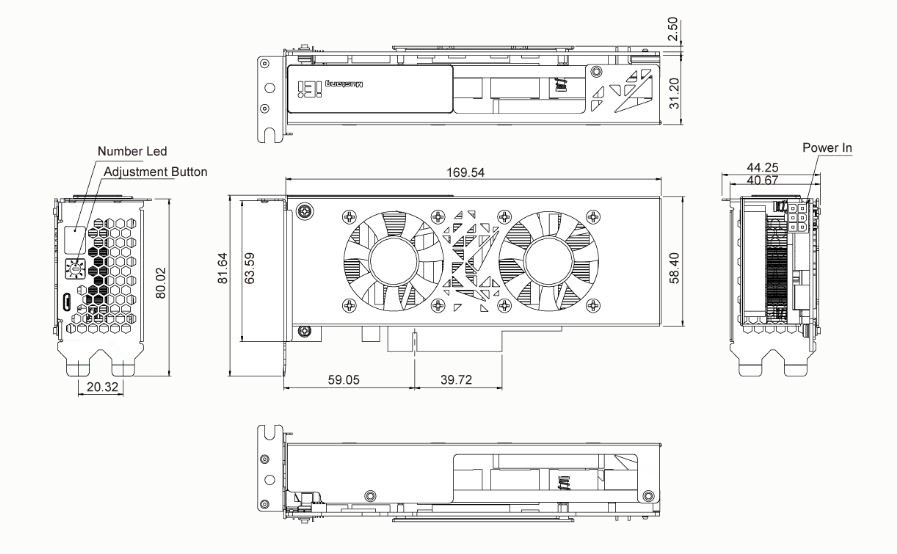 Specifications
Model Name
Mustang-F100-A10
Main FPGA
Intel Arria 10 GX1150 FPGA
Operating Systems
Ubuntu 16.04.3 LTS 64-bit, CentOS 7.4 64-bit (Support Windows 10 in the end of 2018 & more OS are coming soon)
Voltage Regulator and Power Supply
Intel Enpirion Power Solutions
Memory
8G on board DDR4
Dataplane Interface
PCI Express x8
Compliant with PCI Express Specification V3.0
Power Consumption
< 60W
Operating Temperature
5°C~60°C (ambient temperature)
Cooling
Active fan
Dimensions
Standard Half-Height, Half-Length, Double-Slot
Operating Humidity
5% ~ 90%
Power Connector
*Preserved PCIe 6-pin 12V external power
Dip Switch/LED indicator
Identify card number
*Standard PCIe slot provides 75W power, this feature is preserved for user in case of different system configuration.
Ordering Information
| | |
| --- | --- |
| Part No. | Description |
| Mustang-F100-A10-R10 | PCIe FPGA Highest Performance Accelerator Card with Arria 10 1150GX support DDR4 2400Hz 8GB, PCIe Gen3 x8 interface |
If you cant find an off the shelf product that meets your specific requirements speak with our in house design team who can design a new product from start to finish.
Design | Develop | Test | Manufacture
Here's a selection of our design, manufacturing
& associated services: –
For customers designing a brand-new product from scratch or working with an existing prototype.
FREE Pre-design / Pre-sales advise
Prototyping – Custom PC Design, Custom Panel PC, Custom Racks or Custom Peli Case PCs
Prototyping pre checks (chargeable one-time fee for existing prototype)

Hardware compatibility
Thermal testing
Software compatibility

Custom Back Panels and Faceplates
Custom Metal Work (internal brackets, mounting brackets)
Software – Custom OS Image
Take an existing system and we can:
Custom specification (CPU, Ram, I/O, Storage)
Chassis customisation and branding
Custom BIOS
Software – Custom OS Image
Custom Packaging and branding
Integrating newly designed or existing hardware into a larger system
Build to order Racks and Towers, Peli Case PCs and Mini-ITX PCs
Porting, Integration & Deployment
Windows image capture from customers HDD
Linux image capture from customers HDD
Windows / Linux Deployment from customers image
Custom Windows images, create and deploy
Update management
Custom Linux and Android images?
Custom BIOS
Manufacturer : IEI
Card Type
Card Interface Type : PCIe
Card Function : FPGA Accelerator
Card Capture Resolution :
Card Capture FPS :
CPU
Powered By : Intel
CPU Model : GX1150
CPU Speed :
CPU Cores :
Memory
Memory Installed : 8Gb
Memory Slots :
Memory Type :
I/O and Expansion
Expansion Slots :
LAN Ports :
Serial Ports :
USB 2 Ports :
USB 3 Ports :
USB 3.1 Ports :
Video Output :
Multi Display :
Wireless Connectivity :
Operating System
Certifications
Industry
Industry : Industrial Automation and Control, Medical, Military, Transport - Road, Transport and Smart City
Categories : AI Accelerator Cards, AI Inference Accelerator Cards, AI Inference Accelerator Cards