IEI FLEX-BX200 Q370 Intel Coffee Lake AI Modular Box PC
IEI – FLEX-BX200-Q370-i3 – FLEX-BX200-Q370 – Intel i3 Coffee Lake AI Modular Box PC – iCore – i3-8100T – 3.1Ghz – Quad Core SATA M.2 NVMe – PCIe – HDMI
Compare
SKU:

FLEX-BX200-Q370
Categories: All Industrial and Embedded Computers, Deep Learning Computers, Edge Servers – High Performance Computers, High Performance AI Ready Solutions
Tags: Artificial Intelligence, Harsh Environments, High Performance, Industry 4.0 Industrial Automation, Intel, Intel Coffee Lake, Machine Learning, Machine Vision, Medical and Smart Healthcare, Military and Defence, Modular Design, RAID, Transport and Smart City, Wide Temp, Windows
Description
Overview
2U AI Modular PC with 8th Generation LGA 1151 Intel Core i7/i5/i3 and Pentium processor
Four hot-swappable and accessible HDD drive bays, support RAID 0/1/5/10
Two PCIe 3.0 by 4 and two PCIe 3.0 by 8 slots
Dual M.2 2280 PCIe Gen 3.0 x4 NVMe SSD support
QTS-Gateway support
Modular LCD panel kit design (Please refer to: FLEX-PLKIT Selection)
AI Ready Solution Accelerates Your AI Initiative
The FLEX-BX200 is an AI hardware ready system ideal for deep learning inference computing to help you get faster, deeper insights into your customers and your business. IEI's FLEX-BX200 supports graphics cards, Intel FPGA acceleration cards, and Intel VPU acceleration cards, and provides additional computational power plus end-to-end solution to run your tasks more efficiently. With the NVIDIA TensorRT, QNAP QuAI, and Intel OpenVINO AI development toolkit, it can help you deploy your solutions faster than ever.

8th Generation Intel Core Desktop Processors

4-Bay Hot Swappable HDD RAID 0/1/5/10 Protection
The FLEX series offers four 2.5"HDD bays with high speed SATA 6Gb/s interface that can expand storage capabilities and enable fast data transfers. The equipped Intel Q370 chipset provides reliable and high performance hardware RAID protection to back-up your media and critical information. You can configure the RAID 0/1/5/10 from the BIOS menu to increase performance and/or provide automatic protection against data loss from drive failure.
What type of RAID do I need?

● RAID 0 (Striping) -The highest performing level
● RAID 1 (Mirroring) – Data safety
● RAID 5 (Distributed Parity)-offers both data safety and performance
● RAID 10 (combining mirroring and striping) data safety and big data volume
Four PCIe x4/x8 Low Profile Expansion Slots
The FLEX series supports multiple PCIe slots including two PCIe 3.0 x8 and two PCIe 3.0 x4 slots, which are compatible with standard low profile add-on cards, to meet different edge inference computing applications.
● High Speed: 10GbE card, fiber network card
● I/O card: Serial port card, USB card, LAN card, etc.
● AI accelerating card: VPU card, FPGA, GPU card, etc.
● Wireless card: Wi-Fi card, mobile wireless card, etc.
● Storage card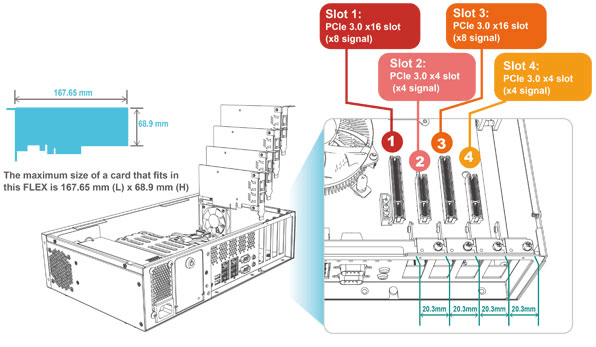 Supported Cards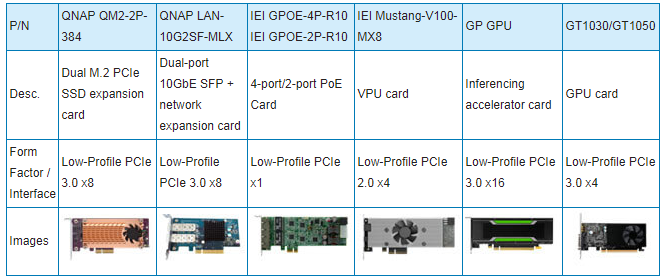 HDMI 1.4 Output Delivers 4K High Definition Video and Audio
The FLEX-BX200 integrated with Intel Coffee Lake Desktop processor supports HDMI 1.4 output port delivering 4K 24 Hz with amazing details. And a single HDMI cable carries both video and audio signals, which makes hookup particularly easy.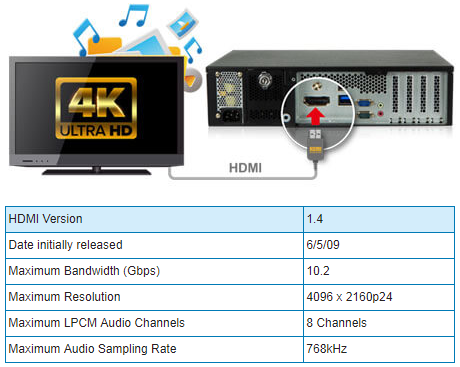 Thunderbolt 3 Dual Ports (optional)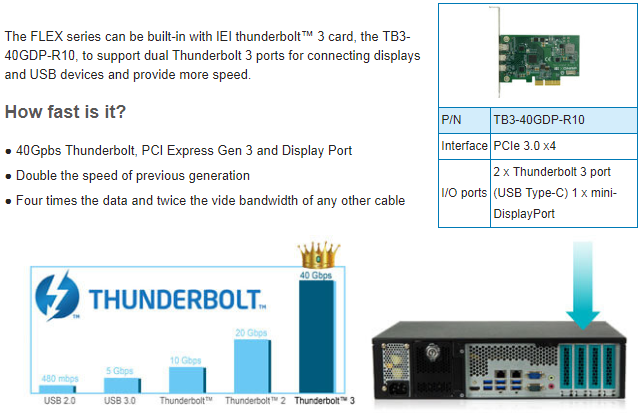 Flexible Deployment
| | |
| --- | --- |
| Rack Mount | Wall Mount |
| The FLEX-BX200-Q370 is designed in 2U height for easy and quick installation in control cabinets. | The FLEX-200-Q370 wall-mountable industrial box PC provides two-way direction for wall mounting, allowing users to orient the I/O panel upwards or downwards. |
| | |
All-in-One Panel PC
The FLEX series featuring a modular design can be fitted with different sizes of panel kits to expand its capabilities.
● More than 7 SKUs provided
● Various monitor choices: 15″/15.6″/17″/18.5″/22″/24″
● PCAP touch screen
● 250W or 350W AC power supply
● Easy assembly and maintenance
● One stop shopping and build your own system to accelerates time to market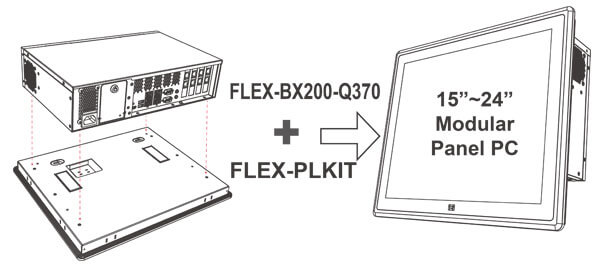 I/O Interfaces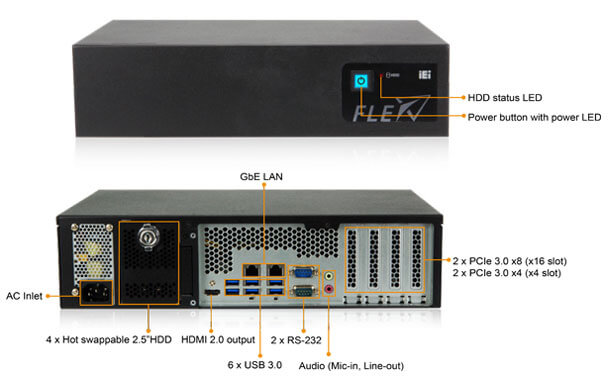 Specification
Description
Form factor
SBC Form Factor
8th Genertion Intel CoreTM i7/i5/i3 porcessors in the LGA 1151
Intel 300 Series Chipsets Q370
FLEX AI Modular Box PC
I/O Interface
I/O Ports
1 x HDMI output
2 x GbE LAN
6 x USB 3.0 Type-A
2 x RS-232 DB-9 type
1 x Mic in
1 x Line out
1 x AC power in Inlet
Expansion Slots
Expansion Slots
2 x PCIe 3.0 by 8 (by 16 slot)
2 x PCIe 3.0 by 4 (maximum card size supported: 68 mm x 167 mm)
System
Cooling method / System Fan
System fan
Drive Bays
4 x Accessible 2.5" SATA 6Gb/s HDD/SSD bay (RAID 0/1/5/10 support)
Indicator & Buttons
Buttons
Power button with power LED (power on=Blue)
AT/ATX mode switch
Reset button
Color
Color
Black C
Dimensions
Dimensions
357 x 230 x 88
Weight
Weight
4kg
Environment
Operating Temperature
-20°C ~ 50°C (with SSD and TDP 65W processor)
-20°C ~ 40°C (with HDD or add-on cards without fan)
Humidity
5% ~95%, non-condensing
Ordering Information
| | |
| --- | --- |
| Item No. | Description |
| FLEX-BX200-Q370-i3/25-R10 | 2U AI Modular BOX PC, Intel Core i3-8100T Processor (4-core, 4-thread, 3.10 GHz) TDP 35W, 2xPCIex4 and 2xPCIex8 slots, 4x HDD bay, 250W PSU, R10 |
| FLEX-BX200-Q370-P/25-R10 | 2U AI Modular BOX PC, Intel Penturm Gold G5400T Processor (2-core, 4-thread, 3.10 GHz) TDP 35W, 2xPCIex4 and 2xPCIex8 slots, 4x HDD bay, 250W PSU, R10 |
Related
If you cant find an off the shelf product that meets your specific requirements speak with our in house design team who can design a new product from start to finish.
Design | Develop | Test | Manufacture
Here's a selection of our design, manufacturing
& associated services: –
For customers designing a brand-new product from scratch or working with an existing prototype.
FREE Pre-design / Pre-sales advise
Prototyping – Custom PC Design, Custom Panel PC, Custom Racks or Custom Peli Case PCs
Prototyping pre checks (chargeable one-time fee for existing prototype)

Hardware compatibility
Thermal testing
Software compatibility

Custom Back Panels and Faceplates
Custom Metal Work (internal brackets, mounting brackets)
Software – Custom OS Image
Take an existing system and we can:
Custom specification (CPU, Ram, I/O, Storage)
Chassis customisation and branding
Custom BIOS
Software – Custom OS Image
Custom Packaging and branding
Integrating newly designed or existing hardware into a larger system
Build to order Racks and Towers, Peli Case PCs and Mini-ITX PCs
Porting, Integration & Deployment
Windows image capture from customers HDD
Linux image capture from customers HDD
Windows / Linux Deployment from customers image
Custom Windows images, create and deploy
Update management
Custom Linux and Android images?
Custom BIOS
Related
Manufacturer : IEI
CPU
Powered By : Intel
CPU Family : iCore
CPU Generation :
CPU Model : G5400T, i3-8100T
CPU Speed :
CPU Cores : Quad Core
Memory
Memory Installed :
Memory Slots : 2
Memory Type : 2400Mhz DDR4
I/O and Expansion
Expansion Slots : M.2, NVMe, PCIe, SATA
LAN Ports : 2
Serial Ports : 2
USB 2 Ports :
USB 3 Ports : 6
USB 3.1 Ports : 6
Video Output : HDMI
Multi Display :
Wireless Connectivity :
Operating System
Certifications
Industry
Industry : Harsh Environments, Industrial Automation and Control, Medical, Military, Transport - Road, Transport and Smart City
Features
24/7 Use :
4G-GPS :
Artificial Intelligence Use : Artificial Intelligence, Machine Learning, Machine Vision
ATEX :
High Performance :
Industrial :
In-Vehicle :
IoT :
IP Rating :
Low Powered :
Mini-ITX :
Multi Displays :
NUC :
Other Features :
PoE :
Rugged :
Ryzen :
System Type : Box PC
Touchscreen :
Whiskey Lake :
Wide Temp : Yes
Categories : All Industrial and Embedded Computers, Deep Learning Computers, Edge Servers – High Performance Computers, High Performance AI Ready Solutions
Related