BVM 10.1″ Industrial TFT 1024×600 350 cd/m²
10.1″ – LCD Module – 1024×600 – 350cd/m2 – LVDS – 235x143x4.9 – 70/70/60/60 – Temp -10° – 60°C – 50k hrs –
Description
Industrial TFT LCD Modules
Here at BVM we have 30 years of experience in configuring and customising embedded PC solutions. BVM realise that our standard and custom IPC solutions will quite often need a display; whether that's the need to simply read & understand data output or providing a means of interaction (HMI) for the control and interrogation of parameters.
To meet these needs, BVM offers a wide a range of sizes in TFT displays, ranging from 5.0" to 24" . Options include :-
Aspect ratios; 4:3, 16:9, 16:10 and bar type
Coloured LED display backlighting
Extended temperature range for extreme environments
Low power options
Fully integrated solutions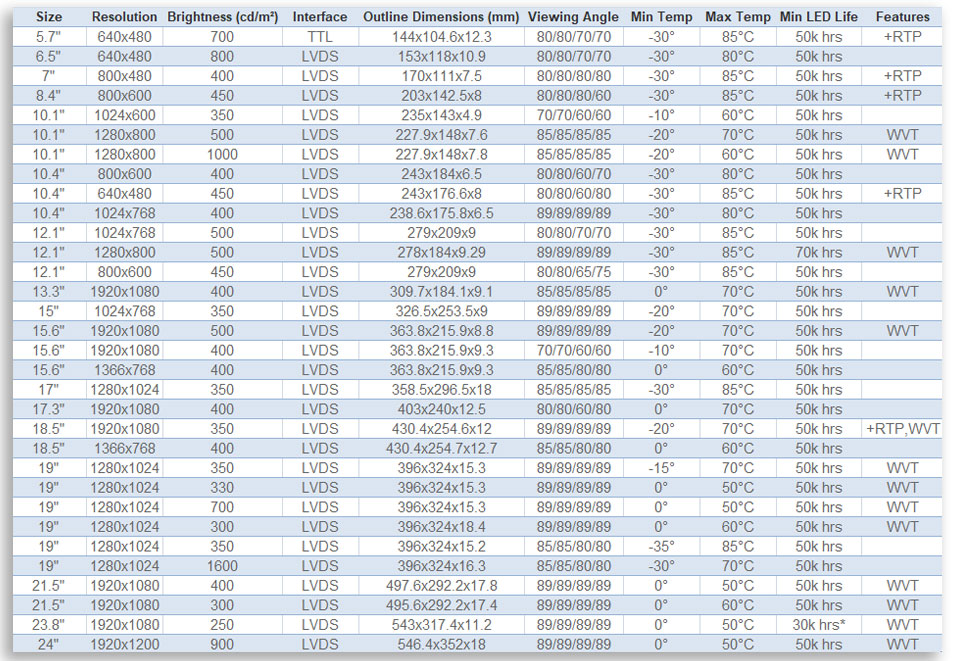 +RTP Resistive touch panel version available / WVT Wide view technology / * Without backlight converter
​The above are just a small selection of our vast array of display options. We have a good cross selection of solutions in most TFT sizes – with choices around resolution, brightness, contrast and touch interaction.
Display Enhancement Services
To complement this range, we also offer display enhancement services to provide you with exactly what you need. Here's a selection of our services :-
LVDS and backlight cable manufacture
Application of anti-glare/anti reflective coatings
Touch screen integration – pCAP, resistive….etc
Optical bonding for sunlight readability and display robustness
LED backlight enhancement services
FPC tail positioning
Our supporting team have all worked in an embedded environment for a number of years, consequently providing knowledge, experience and good advice around all BVM's products & services when and where you need it. We don't profess to know everything you need at the time – but we'll always help in the first instance and get back to you when a little more information is required.
You can either
Call us directly on +(0) 1489 780 144 and talk to one of the team
E-mail us at sales@bvmltd.co.uk
Or use our fast chat / fast answer service on our website
If you cant find an off the shelf product that meets your specific requirements speak with our in house design team who can design a new product from start to finish.
Design | Develop | Test | Manufacture
Here's a selection of our design, manufacturing
& associated services: –
For customers designing a brand-new product from scratch or working with an existing prototype.
FREE Pre-design / Pre-sales advise
Prototyping – Custom PC Design, Custom Panel PC, Custom Racks or Custom Peli Case PCs
Prototyping pre checks (chargeable one-time fee for existing prototype)

Hardware compatibility
Thermal testing
Software compatibility

Custom Back Panels and Faceplates
Custom Metal Work (internal brackets, mounting brackets)
Software – Custom OS Image
Take an existing system and we can:
Custom specification (CPU, Ram, I/O, Storage)
Chassis customisation and branding
Custom BIOS
Software – Custom OS Image
Custom Packaging and branding
Integrating newly designed or existing hardware into a larger system
Build to order Racks and Towers, Peli Case PCs and Mini-ITX PCs
Porting, Integration & Deployment
Windows image capture from customers HDD
Linux image capture from customers HDD
Windows / Linux Deployment from customers image
Custom Windows images, create and deploy
Update management
Custom Linux and Android images?
Custom BIOS
Manufacturer : BVM
Screen
Screen Size : 10.1"
Screen Resolution : 1024x600
Screen Brightness : 350 cd/m²
Screen Dimensions :
Screen Interface : LVDS
Screen LCD Special Features :
Screen Max Operating Temp :
Screen Min LED Life :
Screen Min Operating Temp :
Screen Resolution (H) :
Screen Resolution (V) :
Screen Viewing Angle :
Certifications
Industry
Features
24/7 Use :
4G-GPS :
Artificial Intelligence Use :
ATEX :
High Performance :
Industrial :
In-Vehicle :
IoT :
IP Rating :
Low Powered :
Mini-ITX :
Multi Displays :
NUC :
Other Features :
PoE :
Rugged :
Ryzen :
System Type :
Touchscreen :
Whiskey Lake :
Wide Temp :
Categories : LCD Modules