Description
DFI's MD711-SU is a high-performance fanless embedded box PC designed to work with medical equipment. This medical PC is equipped with 4kV isolated I/O ports and specialized heat dissipation technology with easy-to-clean design and silent operation. The ideal medical applications for this system covers nursing carts, operating rooms, healthcare information systems, and medical OEM equipment integration to ensure the best patient care.
​Features
6th Generation Intel Core Medical Computing System
2 DDR4 SODIMM up to 32GB
2 x 2.5″ SATA 3.0 drive bay
Supports 1 PCIe 16, 1 Mini PCIe, 1 M.2 slot
4KV Isolated I/O ports: 2 Intel GbE, 2 COM, 2 USB 2.0
15-Year CPU Life Cycle Support
Experiences How Small It Is
The size of MD711-SU is defying the public's cognition in medical system. It measures at only 182mm x 97.6mm x 200mm (W x H x D) with light weight and high mobility compared to other traditional medical systems.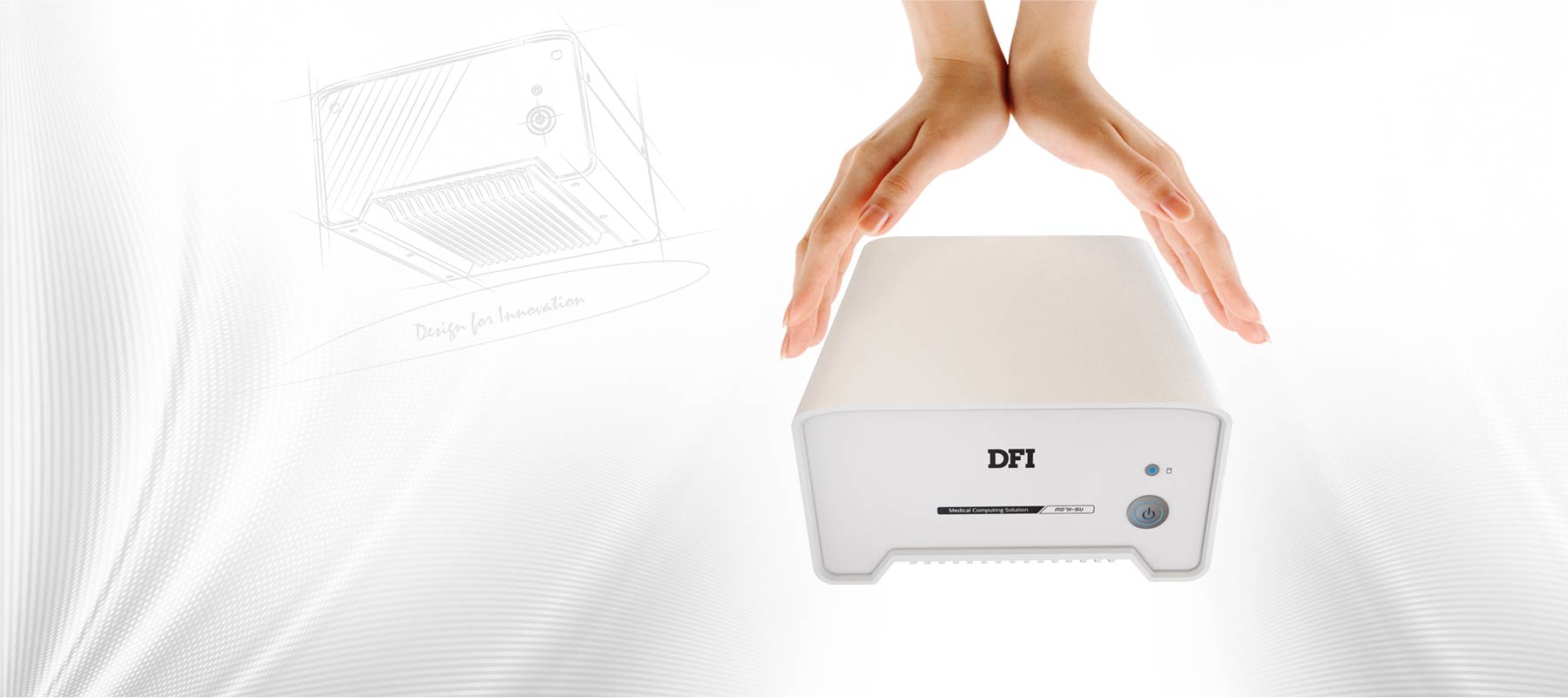 Leads Quietness and Trust
The medical computer has the most silent fanless design with long-term support, which can be used in noise-sensitive environments and makes a dedication to various healthcare applications.
Uses Safely with 4kV Isolated I/O
MD711-SU features isolated I/O ports (LAN, COM, USB) with 4kV support, ensuring speedy signal transmission without noise and easy integration with medical equipment.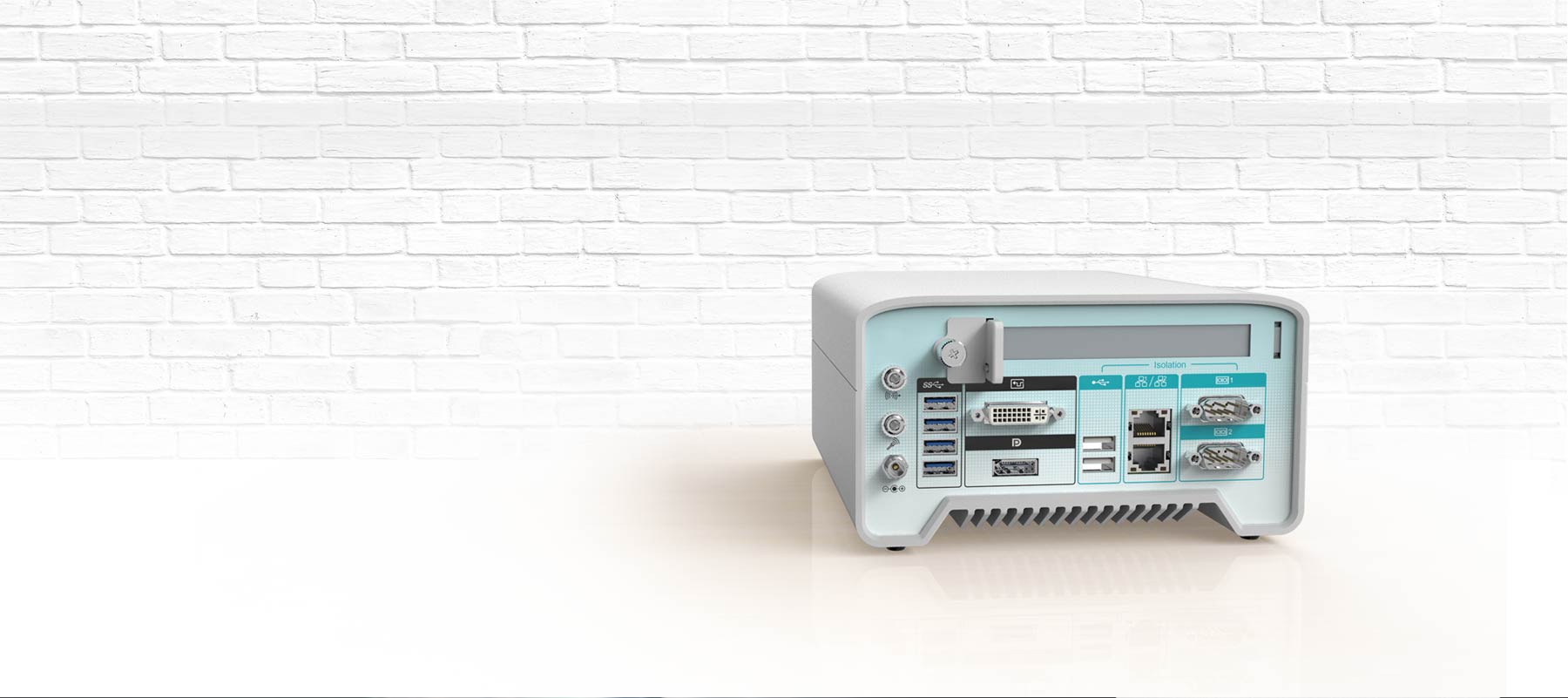 Satisfies the Need of Expandability
An extra expansion slot further powers up the system with high-resolution imaging capabilities to enable various medical applications including ultrasound, endoscopy, and more.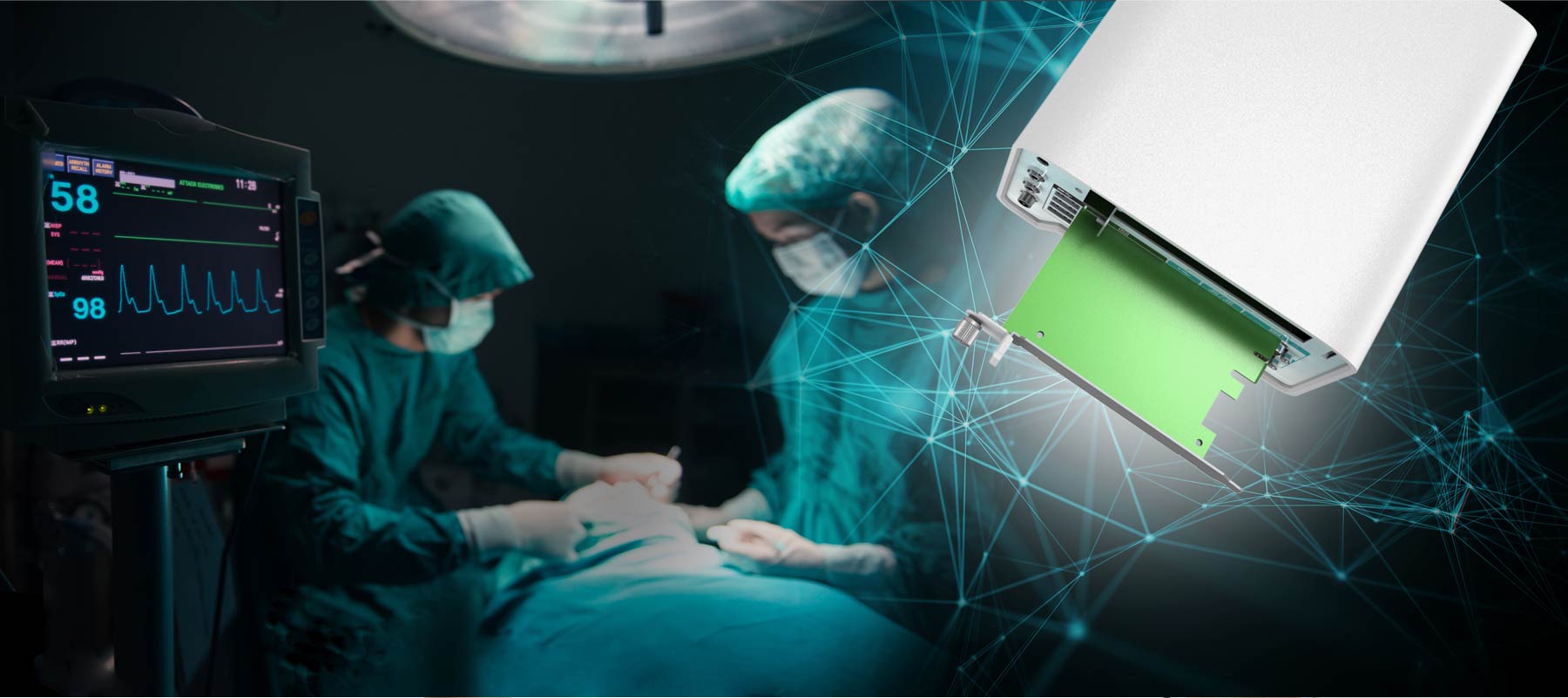 Maintains Excellent Hygiene
The Nano-silver antibacterial agent on the system surface, tested and certified by FDA, transforms Oxygen into active Oxygen, which has a very strong sterilizing power and maintains the antibacterial effect for a long time.
Performs Effortless Cleaning
With pure white chassis to match the healthcare environment, the system features curved angles that improve patient and staff safety. Specifically designed for medical scenarios, the smooth shape enabled by a special downward fin allows easy cleaning and protects the system from being damaged by cleaning agents.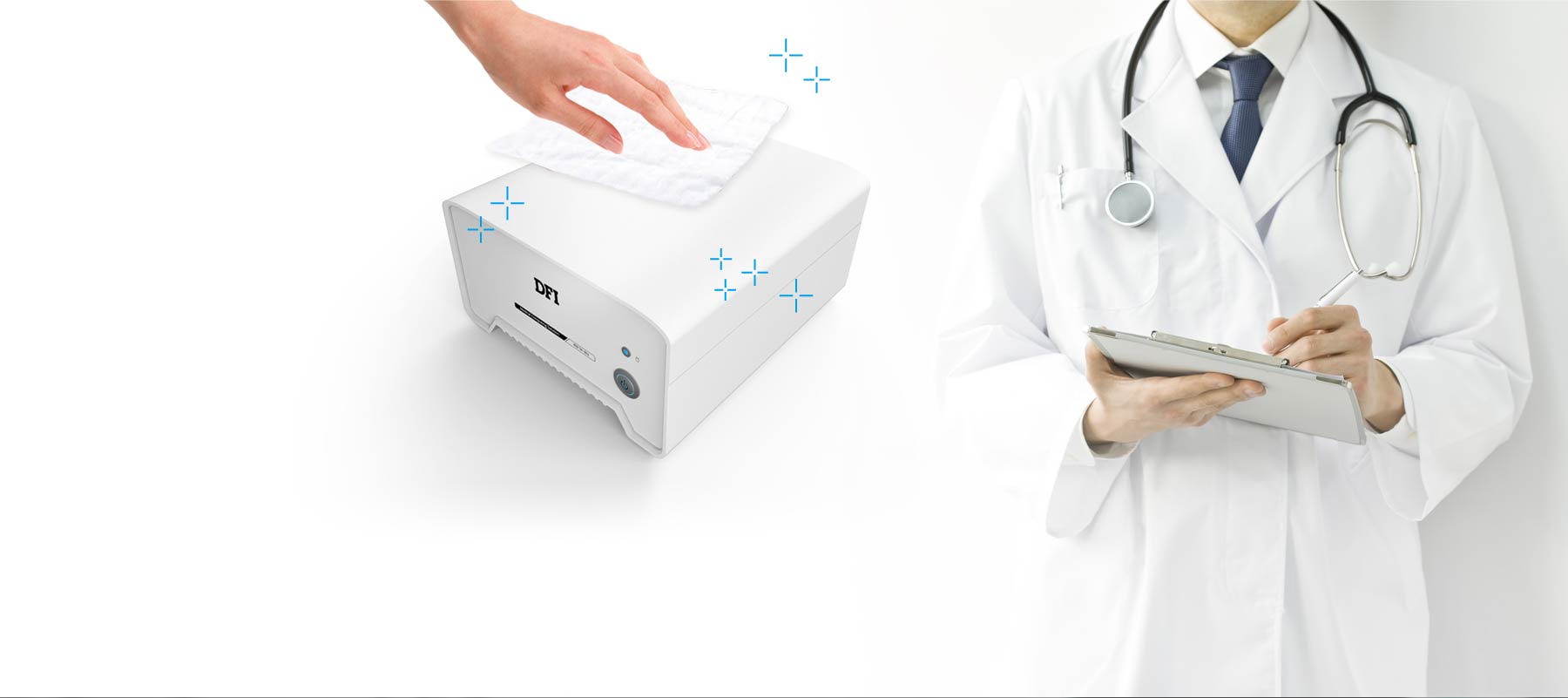 Says Goodbye to Mistake of Plugging
The I/O interface design offers improved user experience with intuitive port type labels, maximizing the efficiency of staff and enabling effortless implementation.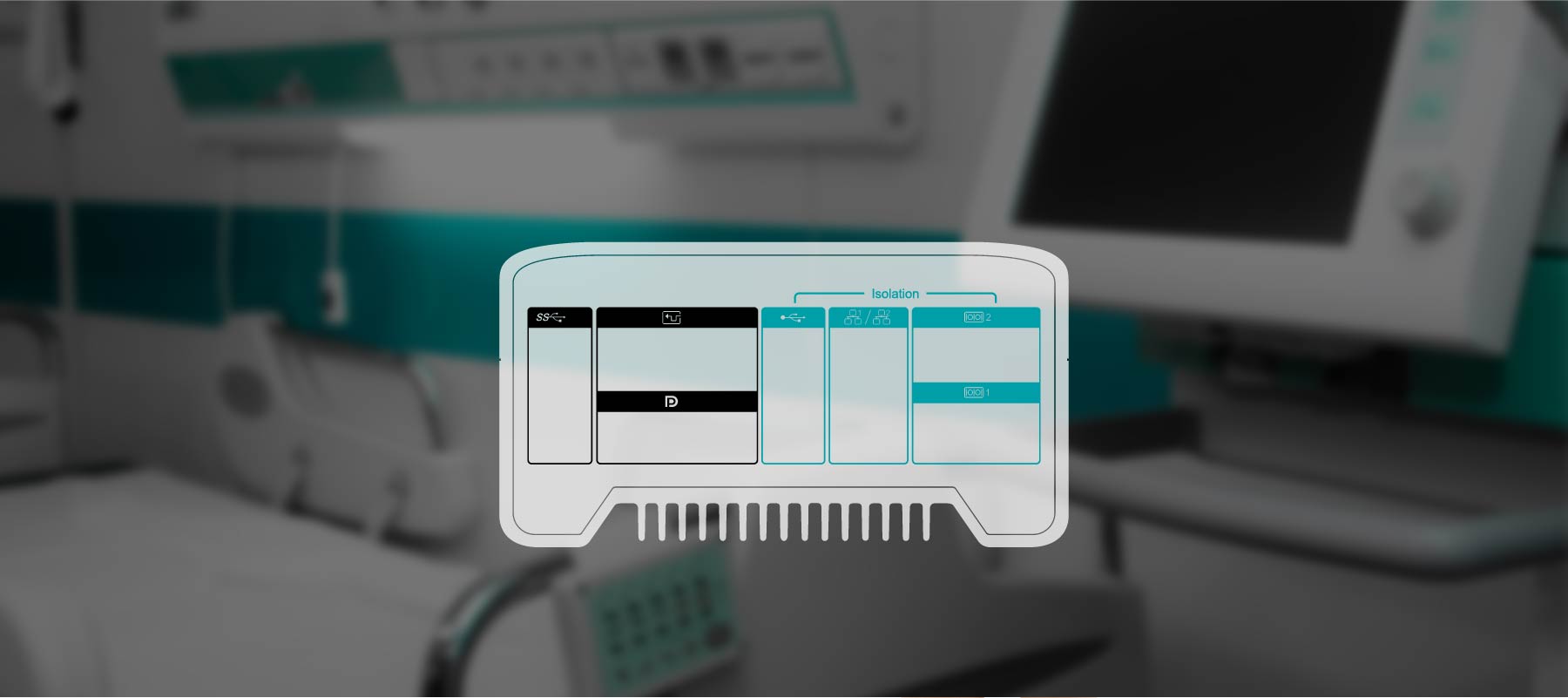 Specification
System
6th Generation Intel Core Processors, BGA 1356
Intel Core i7-6600U Processor, Dual Core, 4M Cache, 2.6GHz, 15W
Intel Core i5-6300U Processor, Dual Core, 3M Cache, 2.4GHz, 15W
Two 260-pin SODIMM up to 32GB
Dual Channel DDR4 2133MHz
Insyde SPI 128Mbit
Intel HD Graphics GT Series
OpenGL 5.0, DirectX 12, OpenCL 2.1
HW Decode: AVC/H.264, MPEG2, VC1/WMV9, JPEG/MJPEG, HEVC/H265, VP8, VP9
HW Encode: AVC/H.264, MPEG2, JPEG, HEVC/H265, VP8, VP9
1 x DP/HDMI (HDMI available upon request)
1 x DVI-D
DP: resolution up to 4096×2304 @ 60Hz
HDMI: resolution up to 2560×1600 @ 60Hz or 4096×2160 @ 24Hz
DVI-D: resolution up to 1920×1200 @ 60Hz
DVI-D + DP
2 x 2.5″ SATA 3.0 Drive Bay
1 x PCIe x16 (Gen 3) (x4 signal)
1 x Full-size Mini PCIe (PCIe/USB)
1 x M.2 (2242 B Key) (PCIe/USB/SATA)
Realtek ALC888 5.1-channel
1 x Intel I210AT PCIe (10/100/1000Mbps)
1 x Intel I219LM with iAMT11.0 PCIe (10/100/1000Mbps)
1 x Power LED
1 x HDD LED
1 x Power Button
2 x GbE (RJ-45) (supports 4kV isolation)
2 x RS-232 (DB-9) (supports 4kV isolation)
4 x USB 3.0 (type A) 2 x USB 2.0 (type A, full speed) (supports 4kV isolation)
1 x DP/HDMI (HDMI available upon request)
1 x DVI-D
1 x Line-out
1 x Mic-in
3 x Wi-Fi Antenna Hole
System Reset, Programmable via Software from 1 to 255 Seconds
Wide Range 9~36V
DC Jack
Windows 7 (32/64-bit)
Windows 8.1 (64-bit)
Windows 10
WES 7
WE8S
0 to 40°C (w/0.7m air flow)
-20 to 85°C
5 to 90% RH (non-condensing)
Aluminum + Metal Aluminum
Wall Mount
182mm x 97.6mm x 200mm (7.17″ x 3.84″ x 7.87″)
TBD
Standards and Certifications
Operating: 3G, 11ms
Non-Operating: 5G, 11ms
Operating: Random 5~500Hz, IEC68-2-64 (3G) (SSD/mSATA), IEC68-2-64 (0.5G) (HDD)
Non-Operating: Sine 10~500Hz, IEC68-2-6 (3G) (SSD/mSATA), IEC68-2-6 (1G) (HDD)
CE, FCC, RoHS
IEC 60601-1-2:2014
EN 60601-1-2:2015
ISO 14971:2007
1 MD711-SU system unit
Mounting screws for SATA drive
Mounting screws for Mini PCIe module
1 Quick Installation Guide
1 CD disk includes: Drivers / Manual
IEC 60068-2-6 Test Fc: Vibration Sinusoidal Test
Sweep sine, 3Grms @ 10~500Hz, 30min.
MD711-SU2061
Fanless, Intel Core i5-6300U, 1 DP, 1 DVI-D, 2 LAN, 2 COM, 6 USB, 1 PCIe x16, RoHS
MD711-SU2061
Fanless, Intel Core i7-6600U, 1 DP, 1 DVI-D, 2 LAN, 2 COM, 6 USB, 1 PCIe x16, RoHS
MD711-SU2061
Fanless, Intel Core i5-6300U, 1 HDMI, 1 DVI-D, 2 LAN, 2 COM, 6 USB, 1 PCIe x16, RoHS
MD711-SU2061
Fanless, Intel Core i7-6600U, 1 HDMI, 1 DVI-D, 2 LAN, 2 COM, 6 USB, 1 PCIe x16, RoHS