Description
Mustang-M2AE-MX1
Intel Vision Accelerator Design with Intel Movidius VPU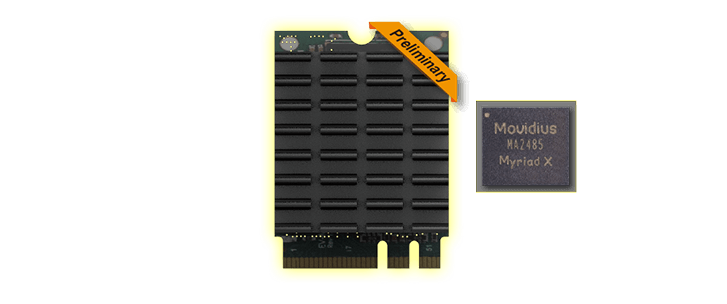 A Perfect Choice for AI Deep Learning Inference Workloads

Powered by Open Visual Inference & Neural Network Optimization (OpenVINO) toolkit
Compact size M.2 2230 card. (22 x 30mm)
Low power consumption ,approximate 5W for one Intel Movidius Myriad X VPU.
Supported OpenVINO toolkit, AI edge computing ready device
Intel Distribution of OpenVINO toolkit
Intel Distribution of OpenVINO toolkit is based on convolutional neural networks (CNN), the toolkit extends workloads across multiple types of Intel platforms and maximizes performance.
It can optimize pre-trained deep learning models such as Caffe, MXNET, and ONNX Tensorflow. The tool suite includes more than 20 pre-trained models, and supports 100+ public and custom models (includes Caffe*, MXNet, TensorFlow*, ONNX*, Kaldi*) for easier deployments across Intel silicon products (CPU, GPU/Intel Processor Graphics, FPGA, VPU).

Operating Systems
Ubuntu 16.04.3 LTS 64bit, CentOS 7.4 64bit, Windows 10 64bit
OpenVINO toolkit

Intel Deep Learning Deployment Toolkit

– Model Optimizer
– Inference Engine

Optimized computer vision libraries
Intel Media SDK

Current Supported Topologies: AlexNet, GoogleNetV1/V2, Mobile_SSD,MobileNetV1/V2, MTCNN Squeezenet1.0/1.1,Tiny Yolo V1 & V2, Yolo V2, ResNet-18/50/101 (more variants are coming soon)
High flexibility, Mustang-M2AE-MX1 develop on OpenVINO toolkit structure which allows trained data such as Caffe, TensorFlow, and MXNet to execute on it after convert to optimized IR.

Applications
| | |
| --- | --- |
| | |
| Machine Vision | Smart Retail |
| | |
| Surveillance | Medical Diagnostics |
Specification
Model Name
Mustang-V100-MX8
Mustang-V100-MX4
Mustang-MPCIE-MX2
Mustang-M2AE-MX1
Main Chip
Eight Intel Movidius Myriad X MA2485 VPU
4 x Intel Movidius Myriad X MA2485 VPU
2 x Intel Movidius Myriad X MA2485 VPU
1 x Intel Movidius Myriad X MA2485 VPU
Operating Systems
Ubuntu 16.04.3 LTS 64bit, CentOS 7.4 64bit (Support Windows 10 in the end of 2018 & more OS are coming soon)
Ubuntu 16.04.3 LTS 64bit, CentOS 7.4 64bit, Windows 10 64bit
Ubuntu 16.04.3 LTS 64bit, CentOS 7.4 64bit, Windows 10 64bit
Ubuntu 16.04.3 LTS 64bit, CentOS 7.4 64bit, Windows 10 64bit
Dataplane Interface
PCI Express x4
PCIe Gen 2 x 2
miniPCIe
M.2 AE Key
Power Consumption
<30W
15W
Approximate 7.5W
Approxinate 5W
Operating Temperature
5°C~55°C(ambient temperature)
0°C~55°C (In TANK AIoT Dev. Kit)
0°C~55°C (In TANK AIoT Dev. Kit)
0°C~55°C (In TANK AIoT Dev. Kit)
Cooling
Active fan
Active fan
Passive/Active Heatsink
Passive Heatsink
Dimensions
Half-Height, Half-Length, Single-width PCIe
113 x 56 x 23 mm
30 x 50 mm
22 x 30 mm
Support Topology
AlexNet, GoogleNet V1/V2/V4, Yolo Tiny V1/V2, Yolo V2/V3, SSD300,SSD512, ResNet-18/50/101/152,

DenseNet121/161/169/201, SqueezeNet 1.0/1.1, VGG16/19, MobileNet-SSD, Inception-ResNetv2,

Inception-V1/V2/V3/V4,SSD-MobileNet-V2-coco, MobileNet-V1-0.25-128, MobileNet-V1-0.50-160,

MobileNet-V1-1.0-224, MobileNet-V1/V2, Faster-RCNN

AlexNet, GoogleNetV1/V2, Mobile_SSD, MobileNetV1/V2, MTCNN, Squeezenet1.0/1.1, Tiny Yolo V1 & V2, Yolo V2, ResNet-18/50/101
AlexNet, GoogleNetV1/V2, Mobile_SSD, MobileNetV1/V2, MTCNN, Squeezenet1.0/1.1, Tiny Yolo V1 & V2, Yolo V2, ResNet-18/50/101
AlexNet, GoogleNetV1/V2, Mobile_SSD, MobileNetV1/V2, MTCNN, Squeezenet1.0/1.1, Tiny Yolo V1 & V2, Yolo V2, ResNet-18/50/1015% ~ 90%
Operating Humidity
5% ~ 90%
5% ~ 90%
5% ~ 90%

5% ~ 90%
*Standard PCIe slot provides 75W power, this feature is preserved for user in case of different system configuration
Ordering Information
| | |
| --- | --- |
| Part No. | Description |
| Mustang-V100-MX8-R10 | Computing Accelerator Card with 8 x Movidius Myriad X MA2485 VPU, PCIe Gen2 x4 interface, RoHS |
| Mustang-V100-MX4-R10 | Computing Accelerator Card with 4x Intel Movidius Myriad X MA2485 VPU, PCIe Gen 2 x 2 interface, RoHS |
| Mustang-MPCIE-MX1 | Deep learning inference accelerating miniPCIe card with 2 x Intel Movidius Myriad X MA2485 VPU, miniPCIe interface 30mm x 50mm, RoHS |
| Mustang-M2AE-MX1 | Computing Accelerator Card with 1 x Intel Movidius Myriad X MA2485 VPU,M.2 AE key interface, 2230, RoHS |
| Mustang-M2BM-MX2-R10 | Deep learning inference accelerating M.2 BM key card with 2 x Intel Movidius Myriad X MA2485 VPU, M.2 interface 22mm x 80mm, RoHS |