Seiko Thermal Receipt Printers
Seiko RP- series receipt printers raise the bar in POS, delivering an unparalleled synthesis of performance, reliability, flexibility, contemporary aesthetics, and ease of use. And with the availability of the new RP-F Series with optional display, RP-E Series and the lite model RP-D Series, Seiko thermal receipt printers offer an array of options to help tackle the most daunting technical and business challenges in point-of-sale.
Seiko RP-F Series, extremely compact thermal printers and come with an optional 4.3 inch color display.
Seiko RP-E Series printers generate receipts at 1.15 feet per second (350 mm per second). With this industry-leading performance, you can elevate customers' perceptions of the buying experience by accelerating transactions. Or, you can add coupons or loyalty program information, to create incremental revenue opportunities, without slowing down.
Seiko RP-D Series is the new standard for value in receipt printers. Built on the sleek Seiko cube design, lite model RP-D delivers exceptional performance, flexibility, reliability, and ease-of-use, all at a budget-friendly price.
RP-F10/RP-E10/RP-D10 Series
Receipt, slip, ticket and more. RP-F10/RP-E10/RP-D10 series is ideal printer for many applications
Supermarket
Apparel Store
Kitchen

High performance printing to

speed up checkout process,

and improve business efficiency.

Compact design to fits into any tiny space, even under the counter.

By the water proof design, RP-E10 / RP-D10 performs as a kitchen printer.
iOS / Android / Windows & Bluetooth
With the stylish and compact design, RP series performs a key role in smart device POS system. The Bluetooth® interface and software SDK for Android™, Windows® and iOS devices provide a best solution for your system.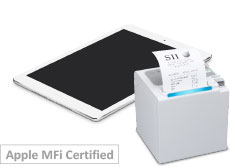 "Made for iPod", "Made for iPhone", "Made for iPad" mean that an electronic accessory has been designed to connect specifically to iPod, iPhone and iPad respectively, and has been certified by the developer to meet Apple performance standards. Apple is not responsible for the operation of this device or its compliance with safety and regulatory standards.
SII Portable Print Service for Android
The Print Service recognizes Bluetooth and WLAN coupled Seiko Instruments printers, and allows printing directly from various apps (for example the browser).

The following printers are supported:
---
---
We like to make life easier ….
Our supporting team have all worked in an embedded environment for a number of years, consequently providing knowledge, experience and good advice around all BVM's products & services when and where you need it. We don't profess to know everything you need at the time – but we'll always help in the first instance and get back to you when a little more information is required. If you have a device or application that would benefit from having a print facility, give the team at BVM a call.
You can either
Call us directly on +(0) 1489 780 144 and talk to one of the team | E-mail us at sales@bvmltd.co.uk | Or use our fast chat / fast answer service on our website