To meet the regulatory requirements of the defence industry, Military IPC Solutions need to undergo rigorous testing to ensure their safety (security) and performance for indoor and in-field military exercise, withstanding of the demands that tough environments can face a solution with.
Typically, the following are parameters that will be measured against for a miltary based PC solution to be operational within :-
Extreme environmental condition
For MIL-STD 810G compliance; where products that have been tested & tried to operate within extreme environmental conditions; high and low temperature with resistance to shock & vibration for long periods of time and high humidity.
Electromagnetic interference
For MIL-STD 461F compliance, detailed testing specifications need to be provided in confirmation that the PC product meets the requirements for the control of electromagnetic interference.
Unstable power supply
Power supply units able to handle wide power input and isolation to protect devices from power surges is a generally a must.
Anti Vibration
Systems to need to avoid any constant or sudden damage from in-field/ environmental vibration, which means the system itself, is able to maintain its functionality while not sustaining any physical damage.
Where resistance to vibration maters, military PC systems should be approved to US military standard, MIL-STD-810F-514.5, C1 / C2 / C3 vibration – possessing M12 connectors IO to enable high reliability in coping with the intensity of field demands of not only military – but transportation and certain applications within industrial automation.
Unstable Power Supply and Temperature
Systems must remain stable, even when the power input changes (typically possessing the ability to operate across a wide range of DC-IN voltages). Systems are often to be found with aluminum chassis and are excellent in operation of temperatures ranging between -40°C to 60°C.
Certifications
Generally, Military IPC products are always built and tested according to military standards MIL-STD-810 and MIL-STD-461.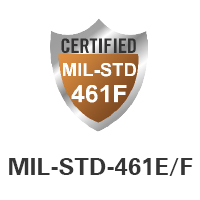 MIL-STD-461 is a United States Military Standard that describes how to test equipment for electromagnetic compatibility.
Specifically, MIL-STD-461F details testing specification to ensure the conducted emissions (CE), conducted susceptibility (CS), radiated emissions (RE), and radiated susceptibility (RS) of a system can meet the requirements for the control of electromagnetic interference.
MIL-STD-461 Method – CE101/CE102: Conducted Emissions
MIL-STD-461 Method – RE101/RE102: Radiated Emissions
MIL-STD-461 Method – CS101/CS106/CS109/CS114/CS115/CS116: Conducted Susceptibility
MIL-STD-461 Method – RS101/RS103: Radiated Susceptibility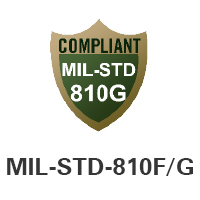 The MIL-STD-810 test series are approved for use by all departments and agencies of the United States Department of Defense (DoD).
The standard describes environmental management and engineering processes that can be of enormous value to generate confidence in the environmental worthiness and overall durability of a system design.
MIL-STD-810 Method 501.4: High Temperature
MIL-STD-810 Method 502.4: Low Temperature
MIL-STD-810 Method 507.4: Humidity
MIL-STD-810 Method 514.5: Vibration
MIL-STD-810 Method 516.5: Shock
Connectivity
Typically, military panel PCs and displays come with MIL-DTL-38999 type I and III connectors – high-performance cylindrical connectors for cable-to-panel applications in military, air traffic controller, or situations where there optimisation of device 'up time' is paramount.
MIL-DTL-38999/I
Power Connector
MIL-DTL-38999/III
VGA/RS-232/USB-A/LAN
---
Case Study: PCIe Mini-card Carrier Module
Working with a long-term customer, BVM were ask to produce a custom PCB carrier design housing & utlising twelve PCIe mini-cards in combination with a mid-range graphics card.
---
Products – Panel PC
For a truly befitting military application, Panel PC products need to have the following processes and features provided to them :-
Extensive OEM manufacturer environmental testing to ensure reliable operational performance in wide temperature extremes and high humidity conditions for in field use.
Military grade connectors.
Aluminum housings with anti-corrosion treatment
Convenient user controls with capacitive OSD or physical buttons for display control
Optical bonding with anti-reflective or anti-glare touch, optional EMI coating – for ease of display readability for environmental lighting conditions.
Dimming adjustment from 0 % ~100 % for display brightness control
Typically, the products being sought after for a military applications will quite often cross over to the products found in our Harsh Condition and Transportation (Land, Sea, Rail and Air) sections. Our advice at BVM would be speak to us first – as there may be a product that serves your application already fit for harsh environment operation, possessing the prerequisite certifications you need.
Rugged Panel PCs
Ruggedized or Harsh Environment Panel PCs are typically used where Wide Temperature diversity is needed in operation (-40°C to +85°C) and/or where the supply of input voltage can vary or be erratic; Rugged Panel PCs typically can accept 9V-36V DC in. BVM can provide 7″ to 24″ TFT display solutions with PCAP or resistive touch input – and screen readability enhancement features such as high bright LED backlighting, optical bonding and anti-glare or anti-reflecting coatings.
In-Vehicle Panel PCs
BVM's In-vehicle Panel PCs solutions are designed to withstand the everyday shock and vibration of vehicle driving and can be viewed from almost any angle through their wide angle viewing capabilities and high bright backlighting. Equipped with wide input voltage (9-36volts DC in), wide storage temperature (-30°C to +80°C) and e-marking certification (E13 certification) and ignition control and delay on/off, our in-vehicle panel PC solutions are easy to install (VESA or panel mount).
---
We like to make life easier ….
Our supporting team have all worked in industrial and embedded environments for a number of years, consequently providing knowledge, experience and good advice around all BVM's products & services when and where you need it. We don't profess to know everything you need at the time – but we'll always help in the first instance and get back to you when a little more information is required.