To meet the regulatory requirements of the defence industry, Military IPC Solutions need to undergo rigorous testing to ensure their safety (security) and performance for indoor and in-field military exercise, withstanding of the demands that tough environments can face a solution with.
Typically, the following are parameters that will be measured against for a military based PC solution to be operational within :-
Electromagnetic Interference
For MIL-STD 461F compliance, detailed testing specifications need to be provided in confirmation that the PC product meets the requirements for the control of electromagnetic interference.
Unstable Power Supply
Power supply units able to handle wide power input and isolation to protect devices from power surges is a generally a must.
Extreme Environmental Condition
For MIL-STD 810G compliance; where products that have been tested & tried to operate within extreme environmental conditions; high and low temperature with resistance to shock & vibration for long periods of time and high humidity.
Anti Vibration
Systems to need to avoid any constant or sudden damage from in-field/ environmental vibration, which means the system itself, is able to maintain its functionality while not sustaining any physical damage.
Where resistance to vibration maters, military PC systems should be approved to US military standard, MIL-STD-810F-514.5, C1 / C2 / C3 vibration – possessing M12 connectors IO to enable high reliability in coping with the intensity of field demands of not only military – but transportation and certain applications within industrial automation.
Unstable Power Supply and Temperature
Systems must remain stable, even when the power input changes (typically possessing the ability to operate across a wide range of DC-IN voltages). Systems are often to be found with aluminum chassis and are excellent in operation of temperatures ranging between -40°C to 60°C.
Certifications
Generally, Military IPC products are always built and tested according to military standards MIL-STD-810 and MIL-STD-461.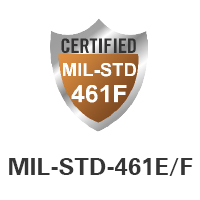 MIL-STD-461 is a United States Military Standard that describes how to test equipment for electromagnetic compatibility.
Specifically, MIL-STD-461F details testing specification to ensure the conducted emissions (CE), conducted susceptibility (CS), radiated emissions (RE), and radiated susceptibility (RS) of a system can meet the requirements for the control of electromagnetic interference.
MIL-STD-461 Method – CE101/CE102: Conducted Emissions
MIL-STD-461 Method – RE101/RE102: Radiated Emissions
MIL-STD-461 Method – CS101/CS106/CS109/CS114/CS115/CS116: Conducted Susceptibility
MIL-STD-461 Method – RS101/RS103: Radiated Susceptibility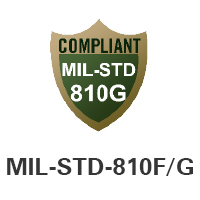 The MIL-STD-810 test series are approved for use by all departments and agencies of the United States Department of Defense (DoD).
The standard describes environmental management and engineering processes that can be of enormous value to generate confidence in the environmental worthiness and overall durability of a system design.
MIL-STD-810 Method 501.4: High Temperature
MIL-STD-810 Method 502.4: Low Temperature
MIL-STD-810 Method 507.4: Humidity
MIL-STD-810 Method 514.5: Vibration
MIL-STD-810 Method 516.5: Shock
Connectivity
Typically, military panel PCs and displays come with MIL-DTL-38999 type I and III connectors – high-performance cylindrical connectors for cable-to-panel applications in military, air traffic controller, or situations where their optimisation of device 'up time' is paramount.
MIL-DTL-38999/I
Power Connector
MIL-DTL-38999/III
VGA/RS-232/USB-A/LAN
---
Portable, Ruggedized PC Solutions with touchscreen interactivity…….
Where expertise is needed in providing 'system in a case' PC solutions, look no further than BVM's range of Peli case PC systems. Where a demanding, tough environmental conditions calls for a portable industrial PC system that's highly ruggedised in its design whilst still remaining light in weight, BVM can produce Pelicase designs on individual basis to securely house your PC system of choice.
Portable Peli Case PCs
They're a great alternative to rugged laptops or tablets – providing better protection, IP rating (if required) and space for custom electronics and selectable I/O.
They're a good solution for combining instrumentation and computing in one rugged and portable package
Good value where a bespoke – rugged embedded computer solution with HMI is being sought, one that can be protected from its immediate environment.
All designs and configurations are an example of solutions we've produced for our customers
and will hopefully serve to provide you with an idea of what we can produce.
---
Touchscreen Panel PCs
For a truly befitting military application, Panel PC products need to have the following processes and features provided to them :-
Extensive environmental testing to ensure reliable operational performance in wide temperature extremes and high humidity conditions for in field use.

Military grade connectors.

Aluminum housings with anti-corrosion treatment

Convenient user controls with capacitive OSD or physical buttons for display control

Optical bonding with anti-reflective or anti-glare touch, optional EMI coating – for ease of display readability for environmental lighting conditions.

Dimming adjustment from 0 % ~100 % for display brightness control
Typically, the products being sought after for a military applications will quite often cross over to the products found in our Harsh Condition and Transportation (Land, Sea, Rail and Air) sections. Our advice at BVM would be speak to us first – as there may be a product that serves your application already fit for harsh environment operation, possessing the prerequisite certifications you need.
Rugged Panel PCs
Ruggedized or Harsh Environment Panel PCs are typically used where Wide Temperature diversity is needed in operation (-40°C to +85°C) and/or where the supply of input voltage can vary or be erratic; ruggedized panel PCs typically can accept 9V-36V DC in. BVM can provide 7″ to 24″ TFT display solutions with PCAP or resistive touch input – and screen readability enhancement features such as high bright LED backlighting, optical bonding and anti-glare or anti-reflecting coatings.
• Harsh Environment Solutions
• Advantages of a Rugged Computer
• Wincomm Rugged Solutions
In-Vehicle Panel PCs
BVM's In-vehicle Panel PCs solutions are designed to withstand the everyday shock and vibration of vehicle driving and can be viewed from almost any angle through their wide angle viewing capabilities and high bright backlighting. Equipped with wide input voltage (9-36volts DC in), wide storage temperature (-30°C to +80°C) and e-marking certification (E13 certification) and ignition control and delay on/off, our in-vehicle panel PC solutions are easy to install (VESA or panel mount).
• APLEX Lightweight Fully IP66 Panel PCs
• In-vehicle Solutions
• In-Vehicle Panel PC Solutions for Warehouse Management
---
System-on-Modules (SOMs)
BVM's portfolio of module solutions provide for the countering of environments containing elements such as moisture, salt, dust and the presence of chemicals. With conformal coating protection applied, high-performance modules can still operate in the most of challenging environments. The coating protects circuits and components from abrasion, electrical short circuits and increases MTBF performance.
Rapid change in temperature can also be a cause of system failure – with the extremities of high and low temperatures being reached. To function properly, systems and components need to be able to operate under a wide variety of those environmental conditions. BVM can offer modules based on the diversity of Intel's 8th generation core (Whiskey Lake) through to the Atom E3900 series – able to sustain 'up time' in the temperature range of -40°C to +85°C. Fanless module solutions are targeted at power-efficient systems that require higher MTBF performance.
System-On-Module products are the ideal solution for many space-constrained applications
where the build-up of heat within the operating environment can become an issue.
System-On-Modules and
Carrier Boards
COM/SOM modules are ideal for applications where product time to market and longevity of solution are critical to your business. Today's COM modules mainly come in two main formats; COM Express (COMe) in Mini, Compact, Basic and Qseven.
Plugged into carrier boards (baseboard), they can be upgraded to newer, backwards-compatible versions as processor technology capability progresses. COM/SOM modules are typically used in Industrial, military, aerospace, gaming, medical and transportation.
---
BVM Design and Manufacturing Services
The manufacturer behind the solutions you know
When a standard embedded design won't suffice for what you need, you can always turn to BVM for help and use our custom design and manufacturing services. Our custom designs are implemented against an ISO 9001-2015 quality management system. Important aspects to the design's potential – such as power delivery, thermal management, vibration & shock and EMC (for the application of any necessary certifications) are all accounted for at the early stages of a product's design.
And pivotal to everything we design is the products ability to be efficiently manufactured on a repeatable basis.
Case Study: PCIe Mini-card Carrier Module
Working with a long-term customer, BVM were ask to produce a custom PCB carrier design housing & utlising twelve PCIe mini-cards in combination with a mid-range graphics card.
---
Case Study: Surveillance – Forensic Data Capture Peli Case PC
A portable system that could be used by police and military customers to interrogate mobile phones and data cards for evidence collection purposes.
Customisation, Performance and Reliability.
Our 24/7 Embedded Systems never need resuscitation.
Customization: With our production & manufacturing facilities located on the  South Coast of England BVM's embedded solutions can provided your specification of choice – services ranging from the integration of standard components, selection and fitting of system enclosures through to the creation of bespoke designs with custom electronics and metalwork. See how we have helped these applications and provided solutions in the past with some of our success stories.
Performance: Our industrial and embedded systems are available with a wide range of industrial components. With CPU's ranging from Intel Celeron to the latest Intel Core series CPU's, memory, high performance storage solutions and more.
Reliability: Built from the highest quality industrial components BVM's industrial and embedded systems are designed to run 24/7 even in the harshest of environments.
Design | Develop | Test | Manufacture
Here's a selection of our design, manufacturing
& associated services: –
For customers designing a brand-new product from scratch or working with an existing prototype.
Prototyping – Custom PC Design, Custom Panel PC, Custom Racks or Custom Peli Case PC
Prototyping pre checks (chargeable one-time fee for existing prototype)

Hardware compatibility
Thermal testing
Software compatibility

Custom Back Panels and Faceplates
Custom Metal Work (internal brackets, mounting brackets)
Software – Custom OS Image
Take an existing system and we can:
Custom specification (CPU, Ram, I/O, Storage)
Chassis customisation and branding
Custom BIOS
Software – Custom OS Image
Custom Packaging and branding
Integrating newly designed or existing hardware into a larger system
Build to order Racks and Towers, Peli Case PCs and Mini-ITX PCs
Porting, Integration & Deployment
We like to make life easier ….
Our supporting team have all worked in industrial and embedded environments for a number of years, consequently providing knowledge, experience and good advice around all BVM's products & services when and where you need it. We don't profess to know everything you need at the time – but we'll always help in the first instance and get back to you when a little more information is required.