AMD Ryzen | AMD Ryzen Embedded Motherboards and PCs
The AMD Ryzen Embedded is a low-power variant of the Ryzen line that primarily targets graphics-driven embedded devices such as Medical Imaging, Industrial Systems, Digital Gaming and Thin Client PCs. These processors have lower TDPs (Thermal Design Power) and offer configurable I/O for system designers.

---
Ryzen V1000 Series
Overview:
The AMD Ryzen Embedded V1000 processor family brings together the breakthrough performance of the pioneering AMD "Zen" CPU and "Vega" GPU architectures in a seamlessly-integrated SoC solution that sets a new standard in processing power for next-generation embedded designs.
Delivering discrete-GPU caliber graphics and multimedia processing, and compute performance up to 3.61 TFLOPS with thermal design power (TDP) as low as 12W and as high as 54W, AMD Ryzen Embedded V1000 SoCs equip system designers to achieve new levels of processing efficiency and design versatility.
Features:

4C/8T "Zen" Cores 14nm / 3.6 FP16 TFLOPS
Up to 4 Independent 4K Displays / 4K60 Decode & Encode
Dual 10 Gigabit Ethernet / Leading Edge Security with SME/SEV
Specification:
Memory: Dual-channel 64-bit DDR4-3200 or DDR-2400 w/ ECC, up to 32 Gb
I/O: 16 PCIe lanes, dual 10 Gigabit Ethernet, and four USB 3.1 Gen ports. A few of the PCIe lanes can also be reconfigured as SATA ports (up to 2 ports).
TDP:15 W / 45 W (with cTDP-up and cTDP-down options)
Technology: Precision Boost, 2-way SMT, AMD-Vi, AMD-V, Secure Memory Encryption (SME), and Secure Encrypted Virtualization (SEV)
L3 Cache: 4 MB
Applications:
AMD Ryzen Embedded Series are designed to meet the processing requirements of a wide range of embedded applications, including:
Digital Casino Gaming – Empowering platforms to deliver multimedia rich, theme based entertainment presented on multiple 4K displays.
Medical Imaging – Delivering exceptional graphics resolution, high performance processing and low power enables improved clinical diagnosis with AMD Embedded Solutions.
Industrial Control & Automation – AMD solutions can be tailored for a variety of automated industrial applications from ruggedized machines to machine vision.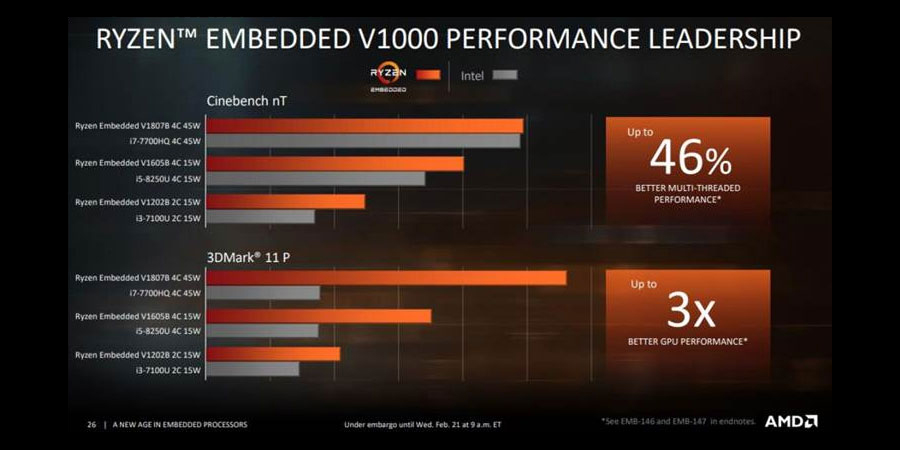 ---
Ryzen R1000 Series
Overview:
The AMD Ryzen Embedded R1000 brings together the powerful performance of the pioneering "Zen" CPU and "Vega" GPU architectures to the R-series family. The Ryzen Embedded R1000 brings multi-threaded performance, for the first time, to the R-series of processors.
With 3x generational performance improvement per watt, and 4x better CPU and graphics performance per dollar than the competition1, the R1000 is an ideal fit for embedded applications. Ryzen Embedded R1000 delivers a new class of performance in a seamlessly integrated single-chip solution. R1000 SoCs are platform compatible with the Ryzen Embedded V1000 Series and enable system designers to target efficient designs between 12W to 25W.
Features:

2C/4T "Zen" Cores / Up to 3 Independent 4K Displays
Dual 10G Gigabit Ethernet / 3 Vega Graphics CUs
4K Decode & Encode / Secure boot and memory encryption
Specification:
Memory: Dual-channel 64-bit DDR4-3200 or DDR-2400 w/ ECC, up to 32 Gb
I/O: 8 PCIe lanes, dual 10 Gigabit Ethernet, and four USB 3.1 Gen ports. A few of the PCIe lanes can also be reconfigured as SATA ports (up to 2 ports).
TDP:15 W (with cTDP-up and cTDP-down options)
Technology: Precision Boost, 2-way SMT, AMD-Vi, AMD-V, Secure Memory Encryption (SME), and Secure Encrypted Virtualization (SEV)
L3 Cache: 4 MB
Applications:
AMD Ryzen Embedded Series are designed to meet the processing requirements of a wide range of embedded applications, including:
Aerospace & Defence – More Encryption, More Security, More Trust Than Ever Before
Digital Casino Gaming – Empowering platforms to deliver multimedia rich, theme based entertainment presented on multiple 4K displays.
Digital Signage & Retail – Connecting consumers and customers with versatile multi-display digital signage solutions
Industrial Control & Automation – AMD solutions can be tailored for a variety of automated industrial applications from ruggedized machines to machine vision.
IoT – Secure and Flexible Edge to Cloud IoT Solutions
Media & Collaboration – Empowering innovation with high-performance digital media and collaboration platforms
Medical Imaging – Transforming human lives with world class image fidelity and performance
Networking – More Performance, More Dependability and More Security than ever before
Storage – More Performance, More Dependability and More Security than ever before
Thin Client – A Trusted Thin Client Market Leader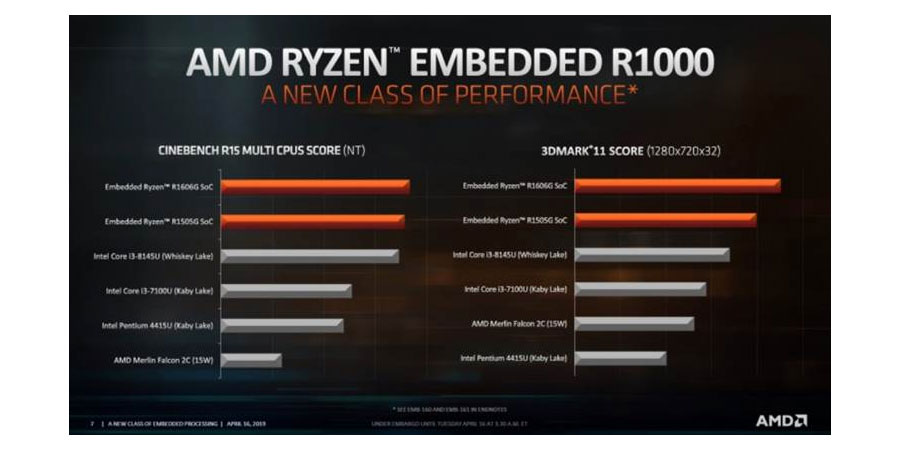 ---
Ryzen Embedded CPU family
Model

Cores

(Threads)

TDP

Frequency

(Max)

Memory

GPU

(Frequency)

V1202B

2

(4)

12 – 25 W

2.3 GHz

(3.2GHZ)

DDR4-2400

Radeon Vega 3

(1 GHz)

V1605B

4

(8)

12 – 25 W

2 GHz

(3.6GHZ)

DDR4-2400

Radeon Vega 8

(1.1 GHz)

V1756B

4

(8)

35 – 54 W

3.25 GHz

(3.6GHZ)

DDR4-3200

Radeon Vega 8

(1.3 GHz)

V1807B

4

(8)

35 – 54 W

3.35 GHz

(3.8GHZ)

DDR4-3200

Radeon Vega 11

(1.3 GHz)

R1505G

2

(4)

12 – 25 W

2.4 GHz

(3.3GHZ)

DDR4-2400

Radeon Vega 3

(1 GHz)

R1606G

2

(4)

12 – 25 W

2.6 GHz

(3.5GHZ)

DDR4-2400

Radeon Vega 3

(1.2 GHz)
---
---